Growing up, our mom made all the holiday cards we received part of our home's Christmas decoration. Forget about just posting seasons greetings on the fridge, she needed more real estate than that. Mom would string cards all around the dining room and over door thresholds like garland. Our 6'4" tall Dad would brush through Hallmarks every time he entered the kitchen. At dinner we'd play "I Spy" and gaze up at foiled poinsettia cards, silhouettes of wisemen, the occasional Charlie Brown Christmas tree, and there was always the card with the snowy Christmas village nighttime scene. Photo cards weren't really a thing back then; we bought cards by the box, and envelopes too. Our favorite family night of December was when we would all get to sit down around the big table with new pens, and each sign our name in an orchestrated assembly line, Mom sealing them up as we went. 
Of course, in many, ways mailing Christmas cards has gotten easier!  You can order and design them all online now. But we all know the real struggle lies deep in your endless closet of "nothing to wear." "What should we wear?" is without a doubt the most asked question in all my years of a photographer. It's just the human plight. "Should we match?" "Should we not match at all?" "Should we be dress up?" "Should I let my kids wear what they want?" Holiday card outfits is such a thing that now sites have their "Sweet Holiday Styles" already curated for you, and ready for the picking. A navy blue corduroy and flannel for him, a sequin cardigan and tulle skirt for her…click, click, click. I've coached clients on some outfit ideas for years, but recently took a photo of Chris and Julia's family who didn't need my help in that department at all, in FACT they taught me something, (surprise, surprise!)
(A hilarious bloopers from the Marcums Christmas card shoot). Jules waltzed out of the house in dusty pink trousers with nude heels. I think my jaw dropped. You can wear pastel pink for a Christmas card? I mean it's not a sweatery turtleneck, they're pants! Then Polly-Poo pranced out in a blast of sunshine petticoat and I looked twice. She's in a vibrant color! She's a walking accent, we can do that? When they all stood next to each other for the first photo huddle, they looked like a perfectly orchestrated breath-of-fresh-air holiday catalog. It just–worked! Between that a-ha moment of breaking the rules of what you can wear for your card, and consulting a few friends this past weekend who were getting ready for their family shoots, I thought I'd share some "What to Wear" pointers with you, straight from the friendly photographer on the other side of the camera. 
Your family card photo does not have to be taken outside. I couldn't wait to take our first holiday card as a family of 3 but also knew it was always dark outside by the time my husband came home from work, and I really didn't want to do a photoshoot in the cold with our little 5 month old. (Yes, I swear it gets cold even in Mexico in December!) I laid out the white comforter from the guest room, we put on our party clothes, and I set up the tripod (and speedlite…umbrella…off camera, on the right side, ok I digress) We were in our own home, just ready for a night on the town, but not having to go out for a night. If you love that holiday glitz and glam dressed-up look like I do, this one's for you:
From left to right: 
Boys Chambray shirt, V neck sweater, bow tie, plaid joggers, Oxfords
Girls Tartan party dress, black tights, ballet flats, headband 
Mens Velvet blazer, black shirt, black tie, plaid pants, Oxfords 
Womens Faux fur coat, smocked dress, shimmer pumps
And while you're liking the idea of staying in for your holiday photoshoot, you're going to love the idea that you don't have to get dressed up at all, not even jeans! Forget about shoes and coats, it's all about loungewear, PJs, and seasonal socks. This is one card concept you won't have to twist anyone's arm for.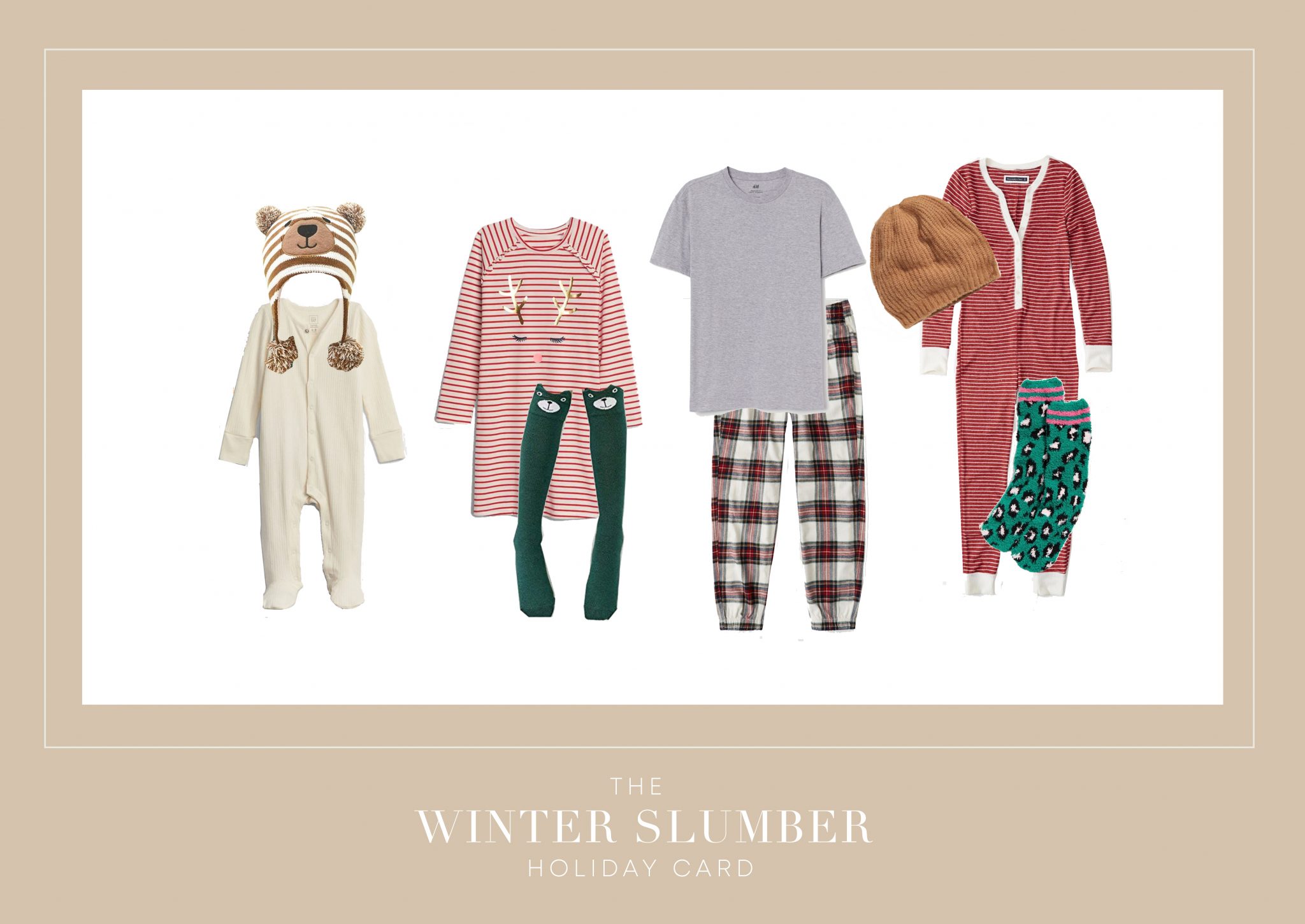 From left to right: 
Baby Bear beanie, footed one piece
Girls PJ dress, over the knee socks
Mens Cotton tee, sleep joggers
Womens One piece pajamas, stitch beanie, cozy socks
Now, a lot of us head outdoors because we love to put ourselves in a scene! Last year we decked out in stripe accents and braved the worst kind of misty rain, because we had already driven 40 minutes out of the city to our favorite multicolor village, Santiago. (Please give our efforts a nod and notice the green and red wall pairing in the background) I wanted family and friends to see this street, and we made it happen. Whether your photo backdrop is going to be your new house (looking at you, Marcums!) a grove of evergreens, a snowscape, or just your neighborhood park, making your outerwear THE OUTFIT is such a cool route to go:
From left to right: 
Baby Padded parka, bootie
Girls Faux-Fur Bomber jacket, boots
Boys Sherpa jacket, boots
Mens Duffle coat, scarf, boots
Womens Buffalo check coat, scarf, boots
Sometimes the answer to "What should we wear" is as simple as "whatever you're most yourself in." Everyone can put on their favorite denims, lace up their boots or sneakers and pile up for a group hug. Your holiday card is allowed to be low key, candid, and casual: 
From Left to Right:
Baby Top and pants, warm-lined boots
Girls Sequin sweater, antlers hairband, jersey leggings
Boys Plaid shirt, knit beanie, boot cut jeans, high tops
Mens Crew-neck sweater, slim pants, sneakers
Womens Bobble sweater, felted wool hat, wide-leg jeans, mules
Whether you decide to dress up to the nines in velvet, or play it low-key in flannel thermals, what everyone really wants to see when they open that envelope is you and yours. Smile like you mean it, and you'll be sure to make their holiday bright. 
Andrea Bradley de Ahedo is a stylist and commercial photographer who recently moved to Idaho after living abroad in Monterrey, Mexico to be the Visual Media Producer for Chris Loves Julia. She loves foraging for unique spoons and bowls for her ever-growing prop collection, and shooting flatlays for days. She feels most at home when she is traveling with her husband and toddler son in tow. You can check her out on Instagram at @andiandreastudio.