The day has come! Our kitchen renovation is finished 7 weeks after we started tearing out our old tile countertops and I can't wait to share with you photos of what it looks like today. I've put all the sources at the bottom of the post for your convenience. When we moved into our home two years ago (almost exactly!) we immediately started making plans to transform the kitchen. At first, we just talked about it, and then we started drawing out plans. They changed over and over. We moved the pantry cabinet out of the dining room and rearranged what we had to tide us over. It was all a part of the process.
Here's where all that dreaming, planning and the past 7 weeks of work has landed us:
There were a few major floor plan changes, including moving the laundry room so we could add a walk-in pantry to the kitchen (and accompanying pocket door!). Recessing the wall where our all-refrigerator sits really keeps the whole kitchen feeling open, and adding new windows floods the room with light.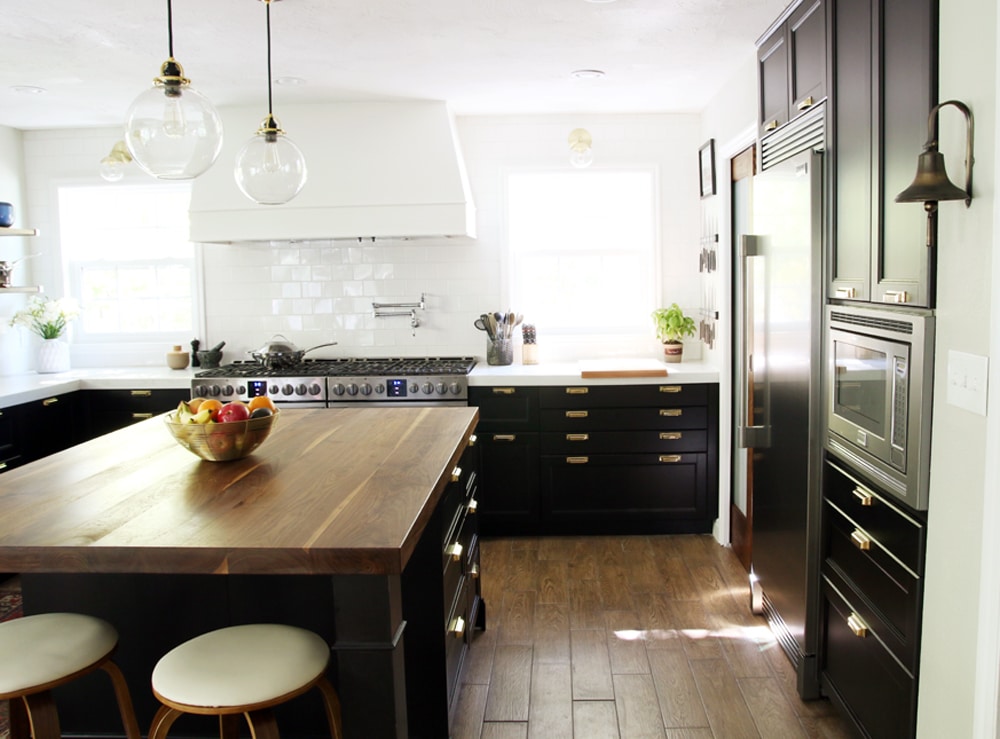 Nixing upper cabinets for reclaimed open shelving keeps the kitchen feeling light even though we opted for black Ikea cabinetry (the LAXARBY finish). The DIYed white concrete countertops for the perimeter of the kitchen juxtaposed with the warm, chunky black walnut island top is one of our favorite parts.
In our last home's kitchen, we went for one big deep sink tub, but since we regularly hand wash knives, certain pots and a few serving dishes, I missed having two tubs!  We love this sink, where the left side is just barely larger, mixed with Delta's Touch2O Trinsic faucet–it's a match made in sink heaven.
I love injecting a few sources of light into every space. In here, we added recessed lights, two pendants over the island, a sconce over each window and come evening, we even turn on the hood lights. They all work together so well and make everything feel comfortable.
Of course, the real stars of the kitchen are the appliances. We have a whole post scheduled for next week (including video!) highlighting them, but we couldn't be happier with the way the Frigidaire Professional collection made our vision for a home chef's kitchen, a reality.
As it turns out, putting two 30″ gas ranges side by side could have been our best idea yet. It really has amped up the look of the kitchen and Chris is already cooking up a storm. We'll give you a peek into the pantry where our all-freezer sits next week, but we love so much space in our all-refrigerator, to store the food we use most, right at arm's reach.
Growing up, my Grandma Capone always rang the dinner bell when it was time to come eat. Now that it feels like home here, I wanted to include one in our kitchen, too.
I thought I'd include a couple real-life evening shots in this post so you can see what dinner prep looks like on an ordinary night in the new kitchen.
Lastly, we wanted to say how grateful we are for all of your support and encouragement during this 7-week process. We feel so blessed to be able to completely renovate our kitchen and add on all of your good vibes and comments–we're over the moon. Thank you, thank you for letting us share this with you.
To see more photos of the kitchen, the breakdown of the layout and functionality and even a video of everything in action, see this follow-up post!
Sources:
All Refrigerator, Frigidaire Professional | All Freezer, Frigidaire Professional | Dishwasher, Frigidaire Professional | (2) 30″ Gas ranges, Frigidaire Professional | Microwave, Frigidaire | Sink, Frigidaire | Flooring: Faux wood tile in Nordic Brown, The Tile Shop | Cabinetry: Sektion cabinets in LAXARBY finish, Ikea | Hardware: Mission bin pull in unlacquered brass, Rejuvenation | Plank-style black walnut island top, Craft Art | White concrete perimeter countertops, DIY (concrete and forms from Z Counterform)| Counter stools, AllModern | Salt Container: New Norm Jar, AllModern | Runner, Ebay | Paint Color: Hazy Skies, Benjamin Moore | 4×5 White Subway tile, Mission Stone and Tile | Pocket Door, Home Depot (stained with Minwax English Chestnut) | Pocket Door handle, Amazon |Shelf brackets,BlueStoneShelves | Sconces: Alto Sconce, Cedar & Moss | Island Pendants: Mist Corded Pendant, Rejuvenation | Towel bar, Rejuvenation | Dinner bell, Rejuvenation | 250 series low-E triple pane Pella Windows, Lowe's | Knives and magnetic bars, Wusthof | Faucet: Trinsic Touch2O, Delta Faucet | Pot Filler, Delta Faucet | Stainless pots, pans and Navy bakeware, Anolon | Fruit bowl, Target | Dish towel, Target | Flower vase, Target | Flowers, The Bouqs Company | Cookware, Anolon | Knives, WÜSTHOF
Miss a part of the process? Click here to see all the posts covering this renovation!