We had to meet with a builder last week for insurance purposes. One of the things that insurance takes into account after a total loss to fire is the cost to rebuild. So we had to sit down with plans of our beloved a-frame and go over every inch and tally up what they would estimate it would cost for them to rebuild it today. Having never built a house from scratch, we asked all the questions. One thing they said was realistically, purchasing land elsewhere and rebuilding (something we're considering for a few different reasons), would likely be 2 years before we would have a rebuilt cabin. Which feels like a long time! 
It inspired us to come home and browse Zillow and see what else was already out there. And then spend hours laying in bed, just talking about how it feels like there's something in our future and we just aren't there yet. Everything feels like it's up in the air. Our flip house fell through (more on that later this week), and there just seems to be a lot of road blocks lately. But reflecting on all the times in our marriage where it felt like it was a road block and it turned out to be something so much better for us down the road (job opportunities, the spacing of our children, etc), is helping us keep a positive and hopeful perspective about the future–whatever it holds.
Today, I really wanted to share all the before and progress photos I took of our A-frame before it was gone. I took a lot of pictures and I still wish I took more. Like, I can't find any photos of the downstairs family room because we didn't really get too far in it and I'm kicking myself for not at least snapping a progress photo even though the walls were still poop brown with large white spackling dotting it. The fireplace and sofa and rug were so cozy! We miss it all terribly. Here's what I did capture from Nov 2017–Feb 2019 (I put all the sources under each section):
Exterior
Black Stain – Cabot's solid acrylic stain in black
Living Room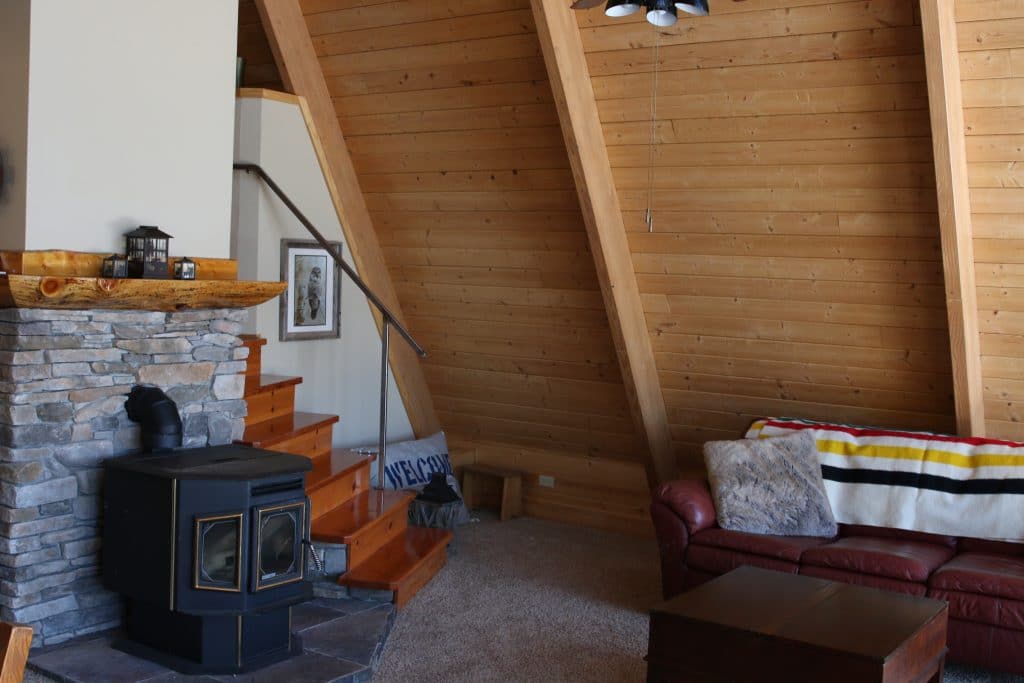 Walls – Benjamin Moore China White
Beams – Benjamin Moore Sandy Hook (see the DIY here)
Doors – Cabot's solid acrylic stain in black (see the DIY here)
Floors
Chandeliers with these bulbs!
Couch
Green Chairs
Blue Pillow
Plaid Pillows
Rug
Ottomans
Lamp
Buck custom from Faraway Lovely
Fireplace with Greypearl Craft Orchard Limestone by Creative Mines (see the whole post here!)
See more about the living room here!
Dining Room
Table
Chairs
Cushions
Serving Board
Kitchen
Cabinet Doors
Sink
Faucet
Hardware
The Great Room
Fireplace
Fireplace with Greypearl Craft Orchard Limestone by Creative Mines (see the whole post here!)
The Loft
Walls – Benjamin Moore China White
Carpet
Trundle Bed
Mattress
Sheets
Sherpa Blanket
Red Blanket
Green Blanket
Pillow
Stuffed Bear
Stuffed Deer
Stool
Light
See more about the loft here & here!
Loft Bathroom
Tile (this is the Grout we used!)
Mirror
Spray Paint
Light
Toilet
Faucet
Towel Ring
Toilet Paper Holder
The Mountain Room
Walls – Valspar's Victorian Tapestry
Bed
Rug
Sheets
Duvet Cover
Blanket
Orange Pillows
White Pillow
Leather Pillow
Blue Pillow
Side Tables
Light
Planter
Mounted Antler Trophies
DIY Cushions & Shelves
See more about the mountain room here & here!
The Forest Room
Walls – Benjamin Moore's Castle Peak Gray
Floors
Lamp Shade
Sheets
Pillows
Fur Blankets
Night Stand
Lamp
Lamp Shade
Hanging Rug
See more about the forest room here & here!