We painted Greta's room this weekend! She has wanted a pink room ever since we moved here, and it seemed like something little we could do for her. Even though pink? I thought it wouldn't fit into our home's color palette, but as it turns out, it totally does. We all love her room now. Here's how her room has looked for the past almost year (poor girl.)
And here's how it looks now after we removed that shelf that was left behind from the previous owners, painted and moved her bed against the wall so she can have more play room:
To keep this dusty blush (Clark+Kensington's Rose Quartz) fresh, we painted the top of the wall white. I love how it brightens her room and is slightly unexpected.
When choosing the color, I looked for a dusty (or grayer) pink. And since her room is in the lower level our house, I wanted to keep it light and warm as well. Rose Quartz ended up being the perfect choice. For the white, I just used an off-the-shelf white. I also painted all the trim and doors a bright, glossy white which made a big difference. I hate painting trim, until I see all the creamy yellow disappear. It's always worth it.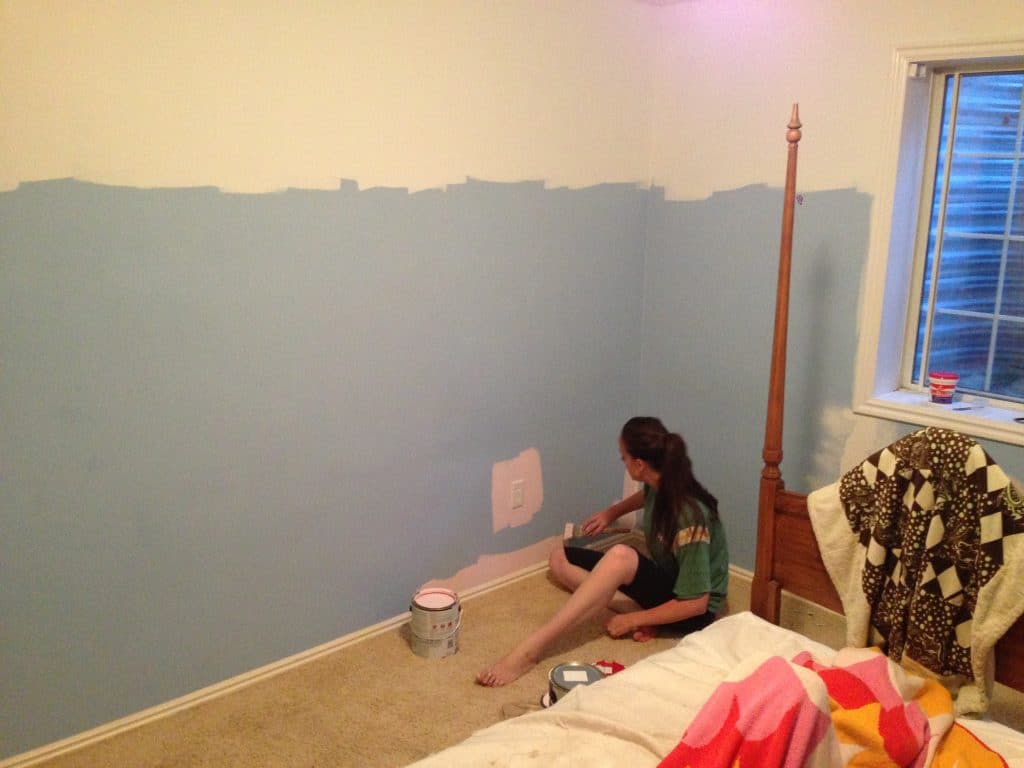 Since we were doing two colors, we tackled this room a little differently than we normally would. First I trimmed out the ceiling and Chris rolled the top part in white–a little farther down than we knew we wanted it. Sidenote: If you don't have this roller extender, it is a must! We love the way it shortens and extends easily with a push of a button. You can see it in action in this old instagram video.Then I painted all the trim and doors, except for the baseboards. I really like saving the baseboards for last in case they get any paint on the tops. You want to keep the top of your baseboards nice and white so they look as crisp and clean as possible. For the trim around windows and doors; I like doing that first so I can get it on quickly, not worrying about getting any on the walls. Going over it with my paint color to where the wall meets the trim seems easier than trying to avoid getting trim paint on my freshly painted walls–maybe it is the angle?
Once we got the walls mostly painted, we set up our laser level (we have this one) and decided to make our dividing line at 66″ from the top of the baseboards. We taped it off, used the greatest tip ever to get crisp lines, and finished the job without a hitch.
This is just the beginning! We are so excited to give Greta a fun room–she really deserves it (see where we're headed here). I threw her new sheets from Schoolhouse Electric and the Hudson Bay blanket we got for Christmas on her bed for these photos, but a few other things have arrived that we'll be working in as well–and there are a few DIY projects up my sleeve, too. I am surprised at how much I am loving the pink. I thought it would be cliche for a girl's room, but I am loving the pink.