If you've been reading our blog longer than a few months, you may remember when we had a major carbon monoxide leak in our home mid-Spring. Having a CO leak is one of those stories you always hear where it happened to a friend of a friend, but when it happens in your own home, it becomes very real. The exact source of the leak pointed directly to our furnace and one of our water heaters was also flagged. All of a sudden, the things you've never thought much about–like the furnace that came with your home and has seemingly worked just fine for 20+ years–consume your thoughts and even keep you up a bit at night. Fortunately, we were headed into warmer weather and had some time to save up money before we needed to turn on a furnace again–but man, the summer flew by!
Though our HVAC research kicked into high gear after our furnace died, we've actually been looking into units, brands, technologies etc. since last November. That was when our furnace gave out for the 2nd time since the weather had turned, and it began making a really loud buzzing/clunking noise whenever it was on. So we knew for awhile that it was only a matter of time–we are so grateful that it lasted through the coldest months of last winter! Here are some things we learned about replacing a furnace, and how our process went. This applies specifically to replacing gas, central air heating units, but there's a great article found on Angie's List that gives some good things to think about, whatever kind of heating/cooling you have in your home.
After our research, if choosing a unit for a new build, I would suggest you request Ruud equipment and lean on your builder's recommendations regarding unit size and configuration. Ruud has held our hand throughout this whole, huge process (which ended up being even bigger than we though) and is now one of our trusted partners who we've researched and vetted and we truly love what they're doing.
1. Learn everything you can about what you currently have in place.
This is personal research, before you bring anybody else in. You should know what brand your unit is, when it was installed, how many BTU's, and any other built-in limitations your home has. For example, you might have a 60K BTU unit and you're wanting to move to a bigger 80K BTU unit. But if you have a 1.5in vent in place and the 80K unit requires 2in, replacing that vent pipe could be a major expense or, in some cases, not even possible.
For us, we discovered that our air return situation was pretty terrible. The way central air works is you have vents that blow air out, and vents that suck air in ("air returns"). Ideally you have an air return in every room, but minimally in the large living spaces. We only have two air returns in our entire house, and they're both in the family room downstairs, 5 feet apart from each other. I think the builders were counting on our large stairwell to allow air to circulate downstairs, but that's terribly inefficient, requiring more work for the furnace while producing uneven heating throughout the house.
The air returns downstairs were also built in using foam core duct insulation, as opposed to actual ductwork. Every technician who has ever seen it says they've never come across something like that. Their comments usually go something like, "I guess it should technically work, but there are definitely better ways of doing it." During the coldest months when the furnace works the hardest, sometimes the vacuum effect would be too much for the foam core boxes and they would cave in (seen in the images above), breaking the "seals" (I say that a bit tongue in cheek – it was just duct tape they put around the edges) and reducing efficiency even further. So that was all a neat discovery.
2. Decide what you want from your new unit.
This goes beyond "I want my house to be warm." We're talking energy efficiency ratings, variable speed blowers, Wi-Fi connectivity ("EcoNet Enabled" for Ruud units), and even the thermostat (and whether it's one stage or two stage).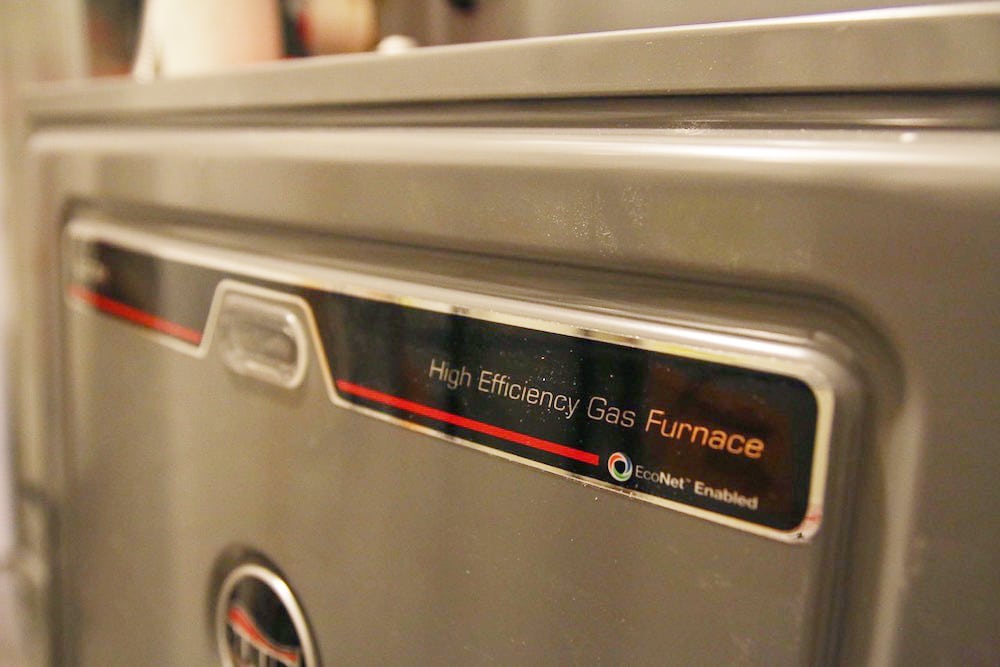 No matter what your political stance is regarding energy, there is no downside for anyone by moving to a more energy efficient furnace. It just makes sense, so for us that's where we started. We also knew that, given the ever-increasing role technology plays in our lives, Wi-Fi connectivity was another thing we wanted to have in place. And it's more than just a "wow that's cool!" thing. Connected units, like Ruud's line of EcoNet Systems, help reduce energy consumption even further by giving you greater control over your HVAC units. One example would be the crazy morning before a vacation. In the rush to get kids dressed, fed, bags packed and everyone into the car/to the airport, do you remember to stop at your thermostat and change the run schedule? Being able to do that remotely, from your phone takes care of that.
And even if that sounds like a rare and isolated scenario, I know for us, some days we're here all day, some days we're gone all day, and it's never the same days from one week to the next. If we hop in the car and start heading to a neighboring city for a day at Lowe's or the furniture outlets, we can adjust the heat or even temporarily turn off our water heaters while we're gone, and set them to kick back on automatically around the time we think we'll be heading home. It allows you to give more attention to your energy consumption, without taking much of your time.
3. Bring in a licensed professional.
This is very important. Do not try to do any DIY HVAC! Said with as many exclamation points as you can imagine. First of all, it's illegal. Secondly, it's dangerous–I'm side-eyeing you foam-core duct insulation. HVAC work should only be done by an HVAC-certified technician, licensed with your state. Ruud's website actually listed all the technicians in our area so it was easy to find someone that not only knew their stuff, but was really knowledgable about the unit we wanted installed. And once you have them in your home, because you already did steps 1 and 2, you can have a productive conversation with them about what is best for your home. I know we've all probably felt bullied at one time by various technicians who tell us we need this and that, but it comes across as a pressure sell into things that aren't necessary. Knowing as much as possible about your home is not only the best way to keep from being taken advantage of, but it's also very helpful for the technician because, as with our case for example, we were able to tell them how we wanted to make sure the air returns were redone in a more suitable way. Which leads right into number four.
4. Be involved in the planning with your contractor.
This may seem silly, but sometimes we assume a contractor will put in a new unit and it will just be like the last one. But sometimes new stuff comes with additional requirements, and there may need to be holes drilled or vents added. You need to be the one to tell them where you want things like this to go, and never assume they just know.
Above: This is the newly installed unit. It's much smaller than the older unit, as the top section is actually the AC coil that was added for the AC unit, which we'll discuss at a later date. The furnaces are very compact and efficient.
We worked very closely with our installer to ensure we had the functionality we wanted, as well as better air return from upstairs. Because our basement is finished, running new ductwork around the house was not an option, so we had to let go of achieving "the ideal." But, we were able to add a 24in wide air return in a wall upstairs that sits directly above the furnace room which will help us achieve much more even temperatures throughout the house, especially with the new unit's variable speed blower.
The wall this air return was added to is part of our great room upstairs, and we have some things we'll be doing in the coming months where the vent will be less noticeable, as well. Similar to our basement.
Once our new unit was in, with the EcoNet devices initiated, the installer walked us through the process of setting up the Rheem app (Rheem is the parent company for Ruud). It only took a few minutes and now we can control our HVAC system, no matter where we are.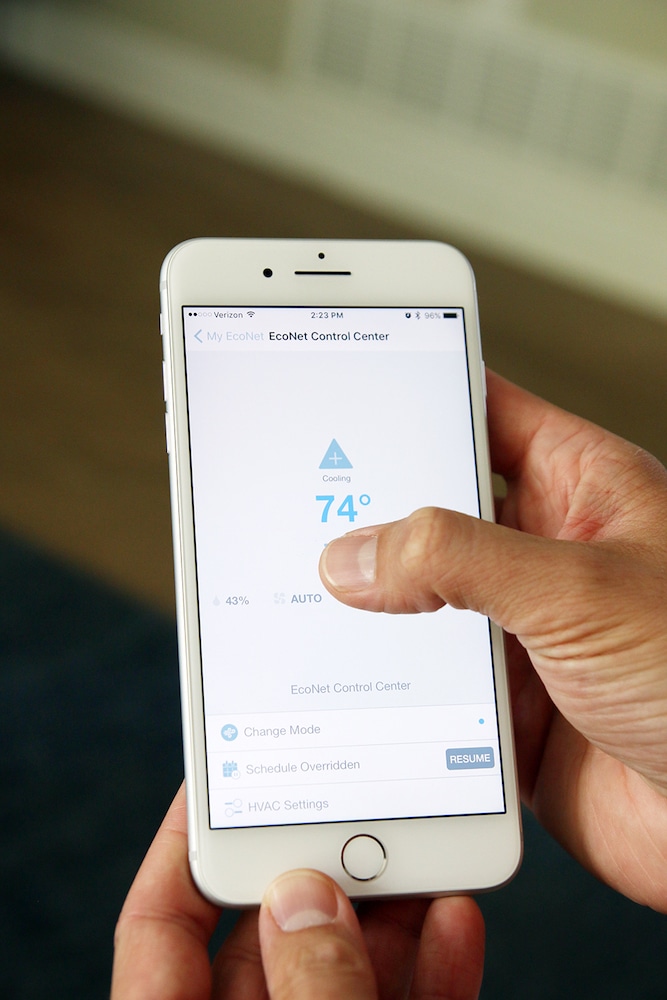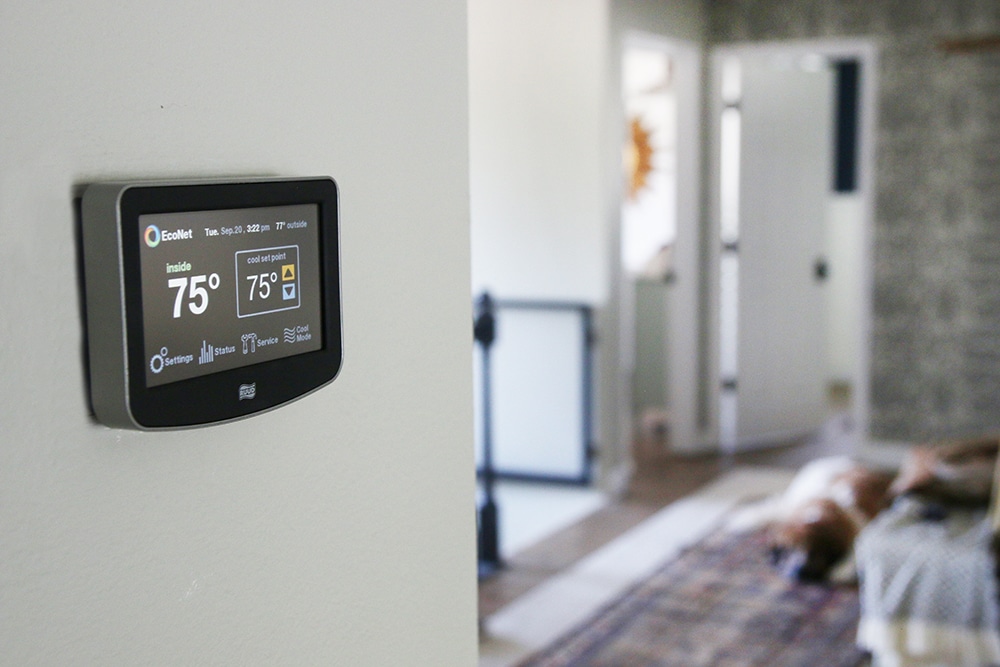 An important note: whether or not you're planning to put in a new furnace, now is still the time to have yours serviced. Find a licensed professional, bring them in and make sure everything checks out before kicking your system on. After months of inactivity, sometimes things can break down or leaks can occur, and you always want to make sure things are safe for your family.
We've partnered with Ruud Heating, Cooling & Water Heating to share our process of making our home more comfortable, convenient, and energy efficient. We'll talk about our considerations and limitations, as well as share details about our energy consumption over the next 12 months. Ruud has been innovating in the HVAC world for over 100 years, so if you're looking at new HVAC equipment, we encourage you to find a Ruud-approved contractor and request that this outstanding equipment be installed in your home.