We bought this home in Idaho 7.5 months ago and I still have yet to get our "Idaho House" tour tab filled. So this weekend, I finally buckled down and snapped some in-progress photos of where we are to fill up that tab this week. Every once in awhile I like posting these photos here rather than just updating the house tour tab, so we can look back and see how far we've come. This is definitely one post I can't wait to look back on because while we have definitely done a lot for 7 months (especially being pregnant all seven of those months), our home is still a little cringe-inducing for me–which is maybe the hardest part about renovating over time and writing about it in real time. There are no magical before and afters here. The great room is looking more like a furniture showroom–the setup is just not working for us, I know we'll figure it out eventually–and a lot of spaces look extremely bare. Also, the whole main level is baseboard-less besides the nursery. As much as there is to do still–years worth!–today, let's just focus on how far we've come.
I took this split photo of the reading room and great room area while we were touring the home.
And this is how the same angle looks today:
The "reading room" (as we like to call it) we finished up in December, but just recently replaced the floors–so it's back on the uncompleted list until we tackle the baseboards and an area rug. When we moved in, the space looked like this:
And now, it's looking like this:
This is still one of our favorite places to hang out. We spend a lot of time in here reading, waiting for Chris to get home, just looking out the windows. You can read about everything from the paint color to building a header for the lights to installing those shelves right here.
When we moved in, the entryway had the same dark paint as the rest of the first floor, as well as dingy carpet:
We haven't really addressed this space, although we desperately need to for storage sake. But! It has received some paint and new floors like the rest of this level so it has definitely improved:
The entry powder room was our first space we renovated upon moving in, trying to get it done before our annual halloween party. It looked like this when we first met:
And these days, although in need of baseboards just like most everywhere else, it looks a lot more like us:
You can read about and see a lot more photos of the space (before we replaced the floors), including sources right here.
When we first purchased this home, I wasn't aware I was pregnant and we had plans to turn this room into an office/studio:
But we couldn't be more thrilled to have transformed it into a nursery for our little Faye-Faye. We're still finishing this room up, but will hopefully have it done in the next day or so and I can share a lot more photos. But here's a sneak peek.
Our room started out in a sad state:
And it still is. Womp womp. Besides the floors and hanging a print, nothing more has changed. It needs help!
Back in the great room, here's another dark before:
And where we are currently in the living room. So far! And yet, so far to go.
Here's an angle looking into the kitchen area:
And the same angle, today: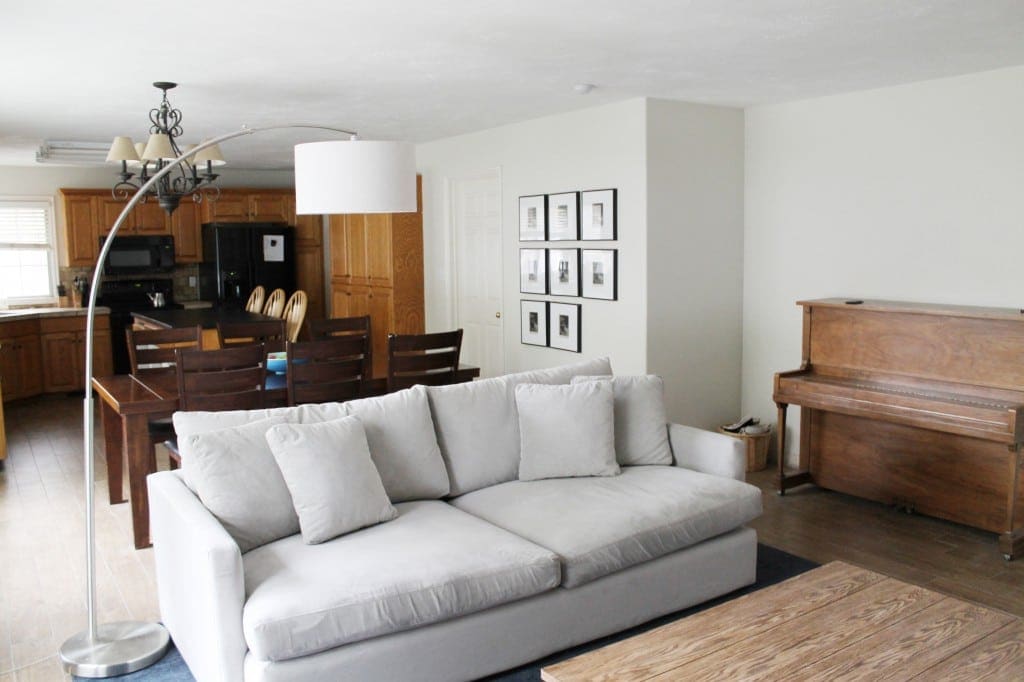 As much as I love that arc floor lamp, I know in my heart (let's make this as dramatic as possible) it doesn't work here. It makes an already visually busy room look busier. As soon as we install some recessed lights, we'll find a new place for it.
The last space that has seen some change is the kitchen, which used to look like this 7 months ago:
And now looks like this:
We're putting some effort into this space in the coming weeks. Effort in the form of paint. (Can't wait!) Although I really tried to hold back on pointing out all the things that need done and we can't wait to do and are still figuring out what to do, know that these are photos of the beginning of progress. We're excited to continue working on this house of ours and document it and watch it transform together. It would be really easy to wait until we were all done and have a million amazing after photos of magazine-worthy spaces, but I am not sure there is anything to learn from that. Renovating takes time, and for us? Trial and error sometimes. We're so grateful you all are along for the roller coaster ride. It makes it so much more fun. Let's look back at these photos in a year and share a few gasps and laughs together. *Fingers crossed.*