A little over a week ago (not last Friday, the Friday before) we set out to Idaho to spend time with family for the weekend and also drop Greta off for a few days while we jet-setted to Florida.  The weekend was fantastic and chill.  Lots of card games, Chris made a three-course meal for everyone, Pampaw (that's what Greta calls my dad) broke out his remote control helicopter and Greta discovered the office chair.  There was lots of spinning on that thing.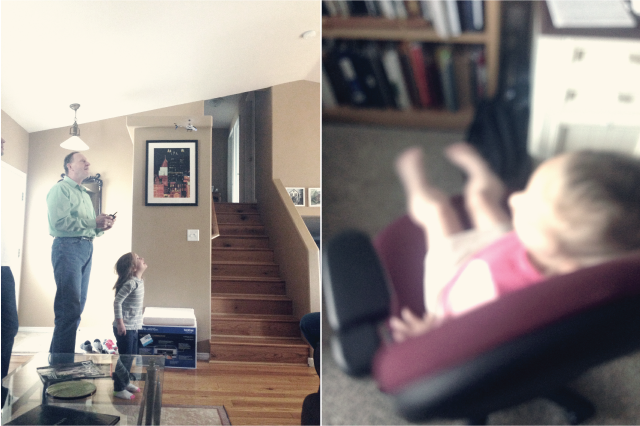 The weekend trip up to Idaho coincided perfectly (what?! how convenient!) with a small trip to Florida for Chris and I.  And when I say small, I mean like 36 hours. Small! Greta was thrilled to stay with her grandparents for a few days and Chris and I flew into Tampa to visit his brother and his family who recently moved there.  And the beach (Clearwater, if you're curious). Of course, the beach.
We tossed around the idea of hitting up Disney World on our only day together, but the beach ended up being the perfect setting for relaxing–which is exactly what we needed.  We swam.  Chris and Brandon collected a plethora of shells.  Stephanie and I read gossip mags and photographed their son, Jack because babies and the beach–I just can't get enough. And we watched people snacking getting attacked by seagulls. There were so many seagulls!  When they started squawking at each other, you knew, a swarm was forming and they were going to get that Cheeto–maybe the whole bag.
We saved up our appetite (and fingers!) and hit up Burger Monger after the beach. It was real good.  And the gluten free bun was better than any other I have had. That being said, I think I'll stick to my lettuce wrapped burgers–apparently, somewhere down the line I went from having to have it lettuce wrapped to preferring it that way. Tampa, family, the beach, Burger Monger, and the half gallon of Blue Bell ice cream we (mostly Chris) inhaled–all great.
The next morning–way too early to call it vacation–Chris and I said our goodbyes and I continued my Florida tour to Orlando.  Two years ago, my little sister was up for a prestigious Photoshop award–a Guru–and she won and none of us were there to see it, so this year when she received another nomination, we worked it out so I could be there.  Really, seeing Andi possibly win was the reason I flew to Florida to begin with–but having family and friends there, too?!  Well, when in Florida I guess.
We zipped around all over town together and attended a few of the classes at Photoshop World and, oh yeah, she totally won!  I was so proud and ecstatic.  That little sister of mine, she sure is talented.
That night we celebrated at Denny's in sweats–yeah, that Denny's–over a strawberry shake and it hit the spot. The next morning, oh my goodness so early (!!!) my taxi picked me up and started me on my way to Tallahassee to visit my dear friend, Meagan and her family.  Tallahassee is really pretty and, thanks to a lot of rain, much cooler than the previous legs of my Florida trip. Our friends are just finishing law school, but Meagan and I became friends at the tail end of undergrad and surprisingly closer since, even if we do live on opposite sides of the country.
When we get together, we talk and talk and talk and talk.  From 8 in the morning to after midnight!  We just really have a lot to talk about.  We took our chatting all around Tally looking at houses (a favorite activity of mine!), to eat, the book store, Target. They have two ridiculously cute girls and Meagan gets stopped by strangers just to get a glimpse.
After all that, yesterday I was ready to come home to my girl and Chris.  Florida was sunny and sweet, but, goodness, there's no place like home with these two.