This laundry room is wrapping up quick. As in, I think (I hope!) this is the last post before the big before and afters of this used-to-be bathroom. Since we write all of our projects in real time as projects actually happen and progress, it's easy for me to feel super pumped about each piece of progress. Like last time, I was so excited about how awesome everything looked once we got the cabinets trimmed out.
And, I mean, it was great progress. But man! The most recent progress changes everything. (Do I say that every time?) Last weekend, we installed a beautiful plank-style walnut countertop and backsplash in the laundry room.
As I mentioned in this post, we ordered the wood from Craft Art unfinished, cut it down to the exact size we needed, cut the sink and faucet hole (and survived to tell the tale!!), and installed it before sealing it. For the install, we just fastened brackets into studs for the countertop to sit on, and then screwing the countertops to the brackets from underneath.
To secure the backsplash in place, we used heavy duty construction adhesive and it isn't going anywhere.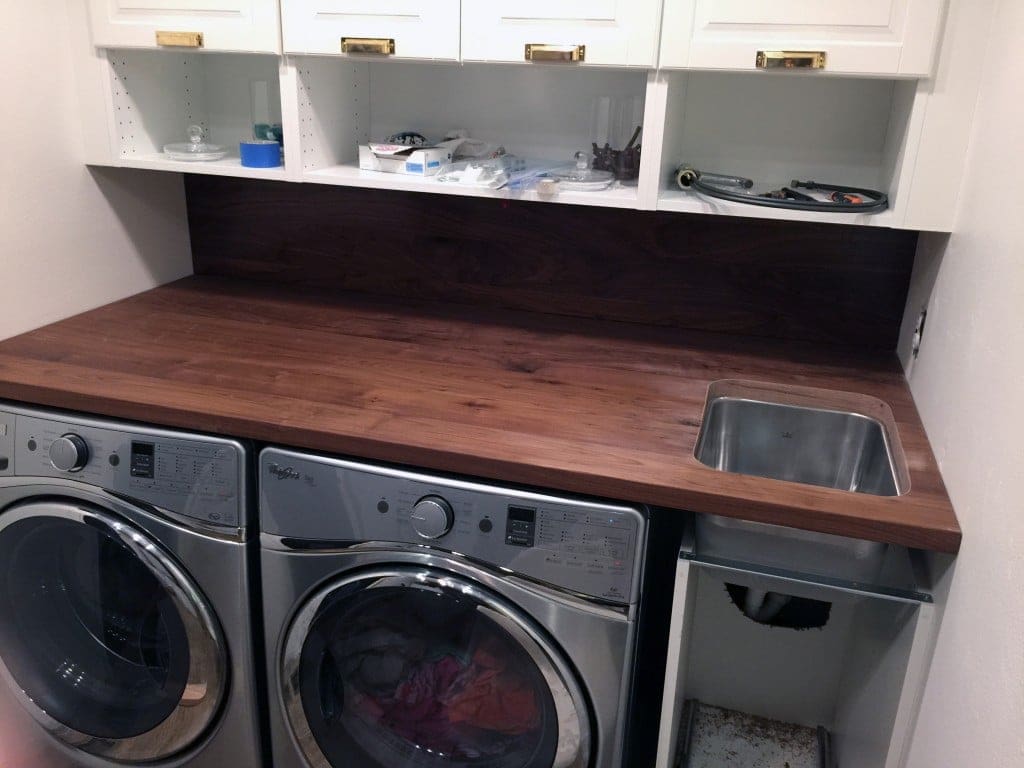 Once the countertop and backsplash were secured, it was time to seal everything. You can see in the photo above, the countertop was a little lackluster especially where we had cut the hole for the sink and faucet and sanded everything down.
We used Waterlox on our last kitchen's counters with great results and knew we wanted to use it again. (Tip–unfortunately this is one of those products that is NOT cheaper on Amazon. It's expensive regardless, but it's cheaper to order it directly from Waterlox's website and a little goes a long way.) I brushed a coat on and let it dry for 24 hours and then lightly sanded it with a high grit sanding block.
I wiped the dust away and brushed on one more coat.
The result is warm and rich and is really pulling the whole room together, don't you think?
With that, to wrap this room up, our laundry list (ha!) is now looking like this:
Install baseboards (wtf. this is always on our list!)
Trim out sink in base cabinet
Install faucet
Fix (or nix?) the electrical for the under-cabinet lighting.
Bring in art, storage, decor, etc!
So close!!! Although getting any of that done requires us to stop staring at the new counters. Shoot. ;)