It's that day of the week again! I'm handing my teacher torch over today to a couple of real experts who have been loving on their Boston Queen Anne Victorian for over three years and creating meaningful routines along the way to make it feel like home faster. Their historic home is a mecca of DIY passion projects, full of so much heart, and meaningful moments. Renovation Husbands are here!
Over the last year we have spent more time at home than ever. We transitioned from a life of daily commutes to a life of working from home. Despite the fact that we are now venturing more and more out into the world, many of the changes we made are here to stay (good luck getting us back into an office.) We very quickly learned that our morning commutes and office life were important parts of our daily routine. They indicated a start and end to our work day and gave us a physical and mental separation from home life. Once these routines were stripped away we found that hours, and days, began to string together with no definitive start or end. It became hard to know when your work day began, and when your work day ended. 
In order to solve this we began to rely on new routines that helped ground us in our day.
1. What routines or rituals (daily, weekly, monthly) have you established in your home?
This one is easy! To help break up our screen time we make it a point to take lunch together. Setting boundaries at work in order to do this can be surprisingly hard but the precedent is now set. What we find particularly helpful is our daily post-lunch "tour of the grounds" – 10 minutes to feed the pond fish and walk around the yard commenting on a plant here or there.  It makes our very small city property feel fancy and forces us to take a moment outside. 
2. What is your favorite spot in your home? Why?
Hands down, the Parlor. For us, this room represents a reprieve from our screen driven world. It's become our "analog" room. There is no tv, the lighting is soft, and a record player sits on the shelf. It's a moment to turn off everything digital and sit with yourself. We use the room to read, listen to records, or talk about our goals.
3. What are some ways you make your home a refuge and retreat?
Create a space that's just for you.  This sounds like an easy idea but in actuality it takes some intention, especially for those with kids or roommates (or spouses).  An entire room might not be an option but create a moment for yourself in your favorite corner, a bench, a stoop. We find that having your spot can be a great way to collect your thoughts and refresh so you can take on whatever life throws at you. 
4. How can I love my home more?
DIY! At the top of the "things we are proud of" list are projects that we have completed together (David is more proud of our shower project than he is of his Masters degree.) There is nothing quite like taking on a challenge, problem solving, and completing a project you have never done before. At the end of any project we take a moment and reflect on what we have created for our home. Create a space that you love.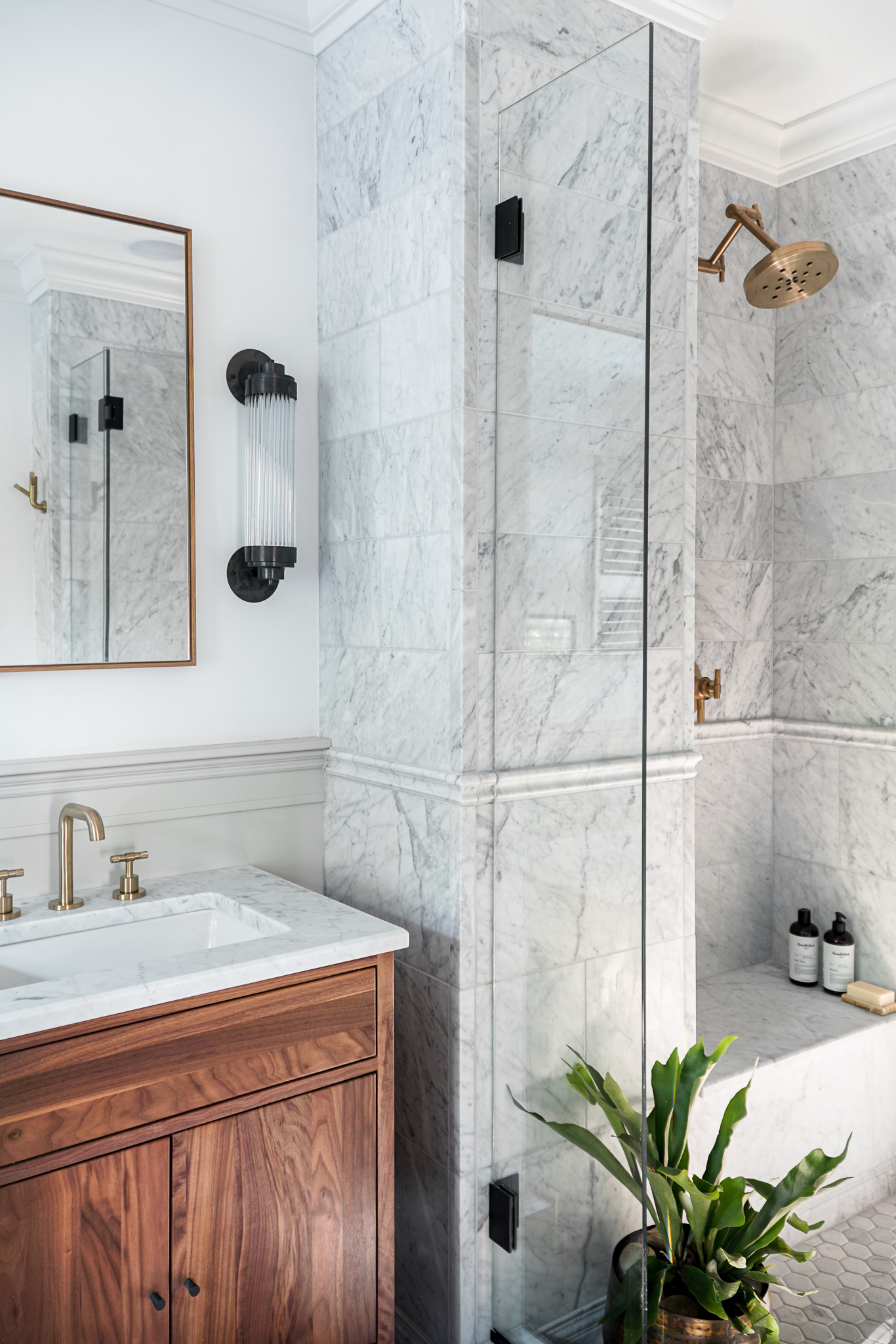 5. What is your favorite way to create ambience?
Lighting! From the fixture, to the bulb, to the temperature, the lighting of a room sets the tone. Stephen is a total lighting snob and obsesses over making the lighting correct for any given space. Do you want the room to be energizing? Crank up the brightness and go with a  "cooler" temperature. We go this direction for kitchens and baths. Want a softer, more ambient space? Go warmer, and dim it down. We do this for our bedrooms and spaces like the parlor. All that said, we never go over 3500 Kelvins (color temperature scale) blue light is our worst nightmare. 
Stephen and David St. Russell, are a  husband-husband DIY team with a passion for a good project. In 2017, after fixing up a couple homes together, they happened upon a completely gutted 1893 Boston Queen Anne Victorian and it was love at first sight. 
For the last 3+ years they have been transforming their home room-by-room and sharing the process on Instagram.
Give them a follow at @renovationhusbands