We were originally going to start our master bathroom renovation April 1st, but that was postponed due to Covid-19. Idaho is entering phase 2 of re-opening this Saturday and we're hoping by June we'll be ready to start on our bathroom renovation! In the meantime, we've been taking the opportunity to tackle our closet, which we definitely want to finish before we start the bathroom since our old closet will be PART of the bathroom but also, we revisited our bathroom plans. We originally shared a layout idea that we worked with a Kohler bathroom designer on here (this is a free service in the design shop in Wisconsin!) and we really liked it at the time, but the more we thought about it, the more we felt like we wanted our shower in a more prominent location. After all, in our last bathroom, we did away with the tub completely in favor of a big shower. Miss you, big shower.
We spent many nights just sketching away at different ideas. Sometimes we would say, "that's it!" and then a couple nights later revisit, rework and think–well maybe let's try this. Needless to say, this extra time has been invaluable and we truly believe we're going to end up with a layout that is best for us. We've narrowed it down to two worthy contenders to share with you. These 8 are all the runner ups. (eek).
Before we share the final two different options we're considering, we shot a quick video of what our bathroom looks like now. No talking, just a fly through video so you can get a sense of the space. It's double long as it is narrow (about 21′ long by 11′ wide).
And here are the two options we're deciding between:
Option A: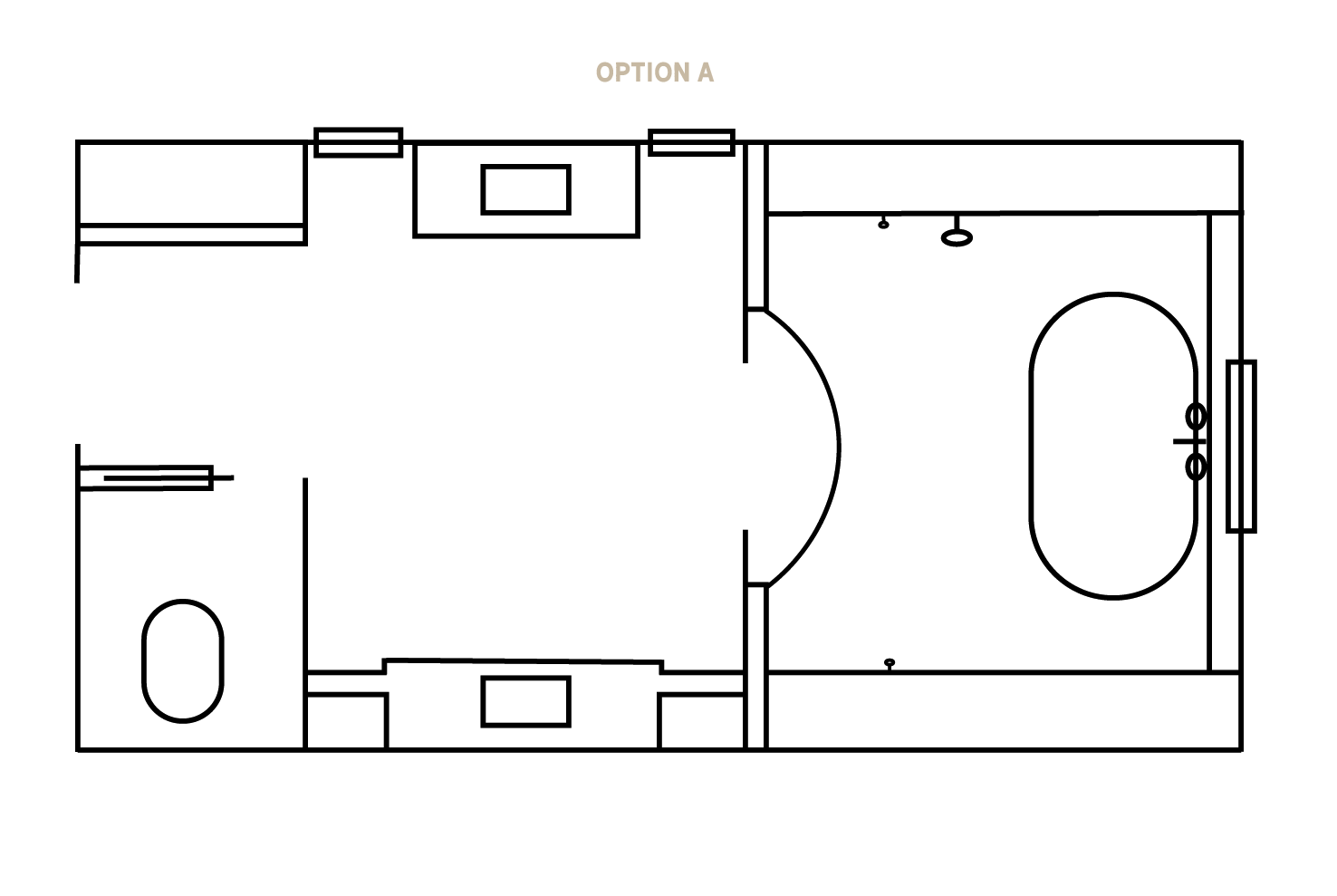 Option A keeps the tub and shower in the same area (very european) to make a wet room. I envision a big arched opening framing the area as a sort of focal point to the bathroom.
The water closet would stay where it currently is with linen storage on the opposite wall. His and her vanities would sit across from each other. We envision my vanity being the larger one with some upright tall cabinets and Chris's would be smaller with larger windows flanking either side to bring in more natural light. This option opens up the feeling of the bathroom and gets away from the galley feel it currently has. Here are a few inspiration photos for this option:
Source
OPTION B:
Option B moves the water closet to the back wall which frees up the walkway when you first walk in and allows us to add a window to the small space (always a bonus for a water closet). A linen closet on the left of the doorway for storage and two identical 60″ his and her vanities along one wall.  A large window and tub moment across from it. And let's be honest, a chandelier over the tub, too.
The shower area still gets a prominent place in this option with an open arched doorway framing the existing window and the shower heads and body sprays tucked in the side allowing us to skip the glass door enclosure. This option maximizes the natural light in every area.
So those are the two we're deciding between. We like both for different reasons. We're leaning one way but would love to hear any arguments or experience or opinions either way! We feel like we're really really close to nailing down a plan and once that happens, I can start mood boarding!! Which do you prefer??