You probably won't make this dish. It has beets in it, so why would you make this dish? Your mom used to make you eat beets, straight from the can, mushy and bright red. So, beets are gross. Right?
Fluted Bowl | Ginger Jar | Honey Pot | Glass Carafe
You probably won't make this dish, but I wish you would. Beets don't get the appreciation they deserve, and they don't always get a fair chance to shine. This dish brings together all of beet's best friends; roasted, toasted, and glazed. And it's truly something special.
But alas… you probably won't make this dish.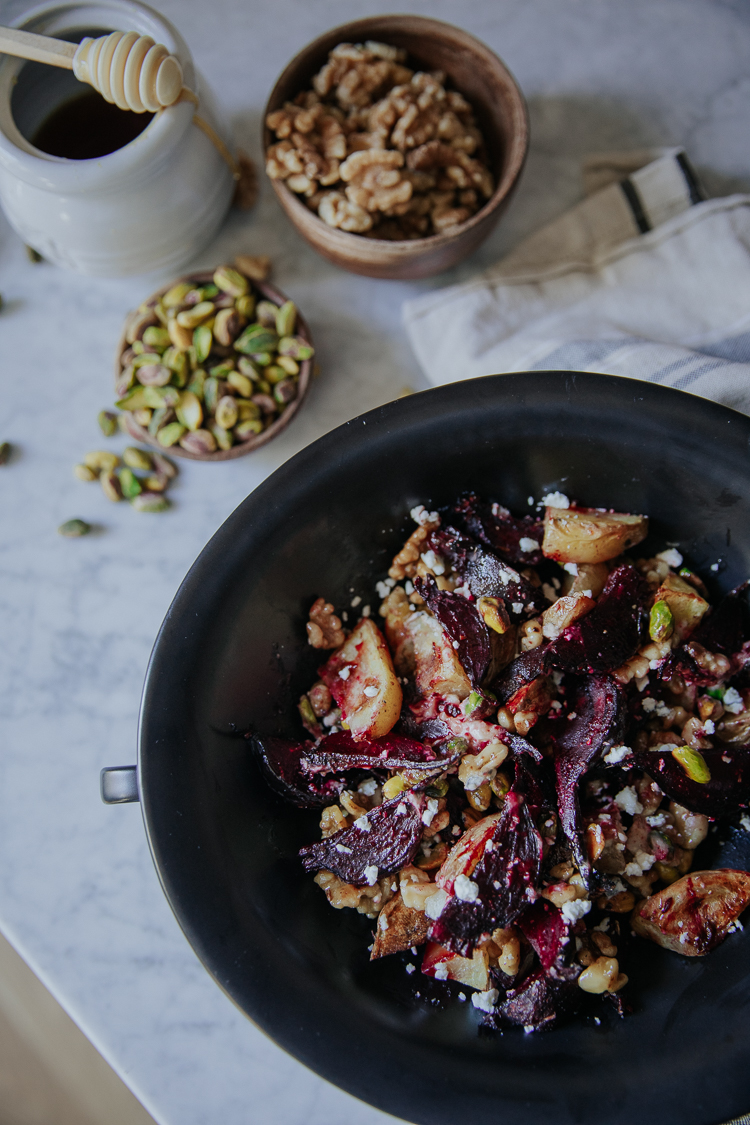 … probably… But just in case…;)
If you want to pop the beets and potatoes on the grill, I recommend using these handy mesh grill bags to keep them contained.
Roasted Beets & Potatoes with Goat Cheese and Candied Nut Vinaigrette
I've always told myself I don't like beets, but that's not true. I just don't like the way most people make them. This version is the best version of a beet I've ever had, and thems just the facts.
To Roast the Beets
4

medium

beets

washed, cut into eighths (wedges)

2

medium

Yukon Gold potatoes

washed, cut into wedges

2

tbsp

olive oil

1

tsp

fennel seed

ground down in a mortar and pestle

1

pinch

salt

1

pinch

black pepper
For the Candied Nut Vinaigrette
1/3

cup

walnuts

halves and pieces

1/4

cup

pistachios

shelled

1/4

cup

honey

2

tbsp

sherry vinegar
Roast the beets and potatoes
Preheat oven, with a baking sheet inside, to 450. Leave baking sheet in for 10 minutes after oven reaches temperature.

In a bowl combine and toss together to roasting ingredients. Remove pan from oven, add ingredients to the pan (it should sizzle) and shake to evenly distribute. Roast at 450 for 15 minutes, then broil until brown spots develop. Remove from oven and put in serving dish. Top with crumbled goat cheese.
Make the candied nut vinaigrette
In a dry pan over medium heat, toast the nuts. Once they start to darken, add the honey and toss, then the vinegar and toss again. Pour the nuts directly over the beets and potatoes, and toss gently. Top with a few more crumbles of the goat cheese and serve warm.