We had so much fun last year making over Andi's awkward living room, so when Kirkland's Home asked if we wanted to do another one-day makeover with their incredible new Spring Collection, we did not hesitate! We've been taking turns at the team's houses, and Becca's card was up – she just moved into a townhome last year and really wanted her dining room refreshed! She and her husband, Conner, have made little cosmetic changes here and there, but we wanted to give them the full CLJ makeover package! The biggest design dilemma this space presented is that it's a room with no windows. Of course, we didn't let that get in our way!
Here's how it went and everything we did to make it feel brighter!
1. Paint can brighten a room
Before
After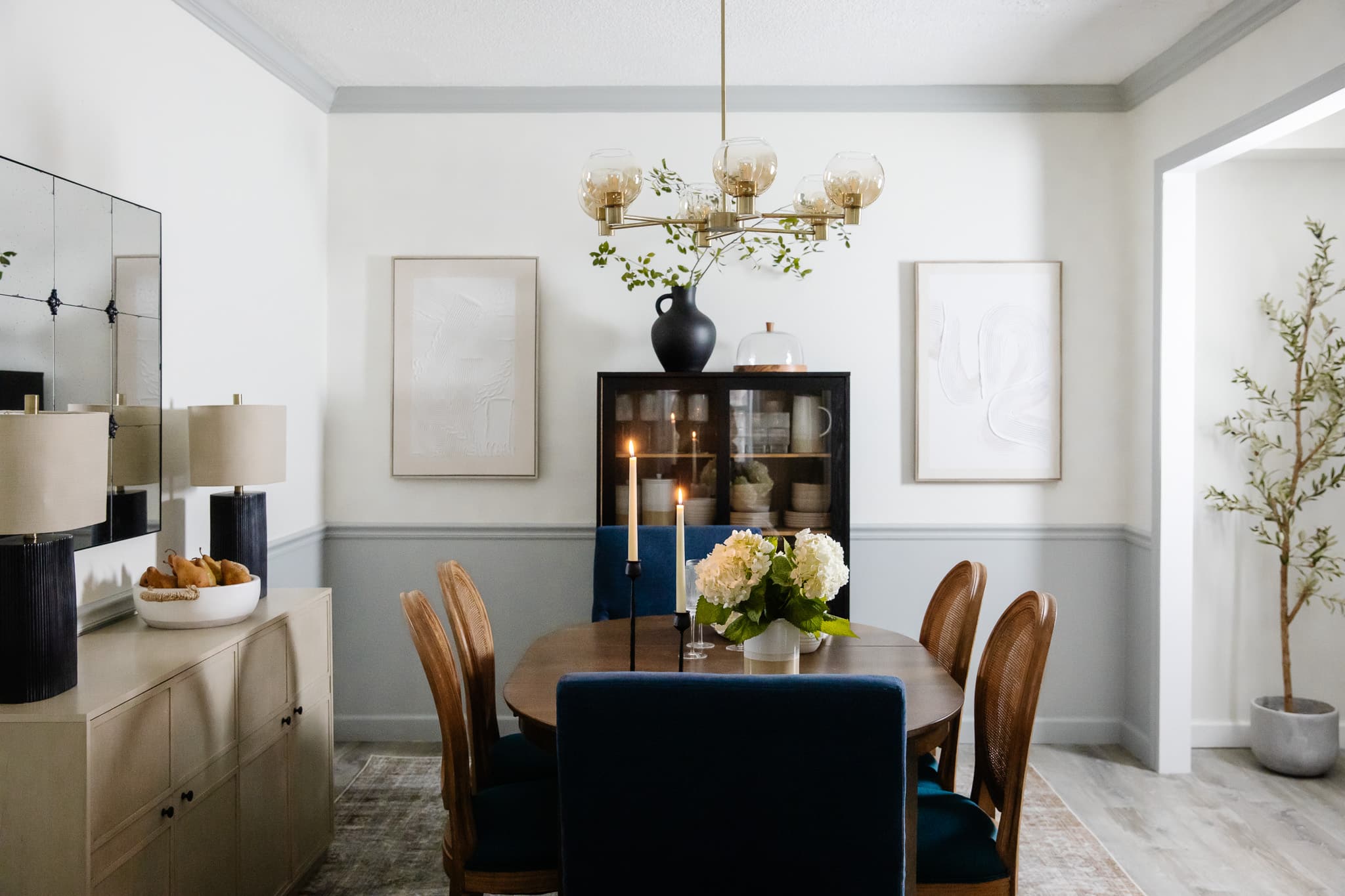 Chandelier | Dining Table | Dining Chairs | Captain Chairs | Black Cabinet | Sideboard | Olive Tree | Rug
I cannot get over this before and after! You can see where the dining room opens up to the kitchen on the right, where there are also no windows, and where they recently expanded the cased opening! This photo was taken standing in Becca's living room, where there actually are a few windows which helps.
Aside from that bit of natural light, I knew the right paint color in the right places would make a huge difference. And it totally did! Keep in mind that we didn't paint the upper walls at all! We only painted the trim, the chair rail, and all the wall space below the chair rail. It created a contrast, making the white look whiter while also adding dimension and grounding the room. We used Benjamin Moore, Half-Moon Crest, and she previously painted white walls in Sherwin Williams Westhighland White! The gray is the perfect soft, bluish-green gray. It shifts tones ever so slightly, depending on the time of day, and if the lights are on, and I love a paint color that dances with the light like that.
Painting the room first really set the tone for all of the incredible Kirkland's Home selections we made!
2. Lighting matters!
Before
After
Shop Becca's Dining Room

Swapping out the chandelier, hands-down, made the biggest impact in this room. Thanks to the diverse and high-quality lighting options that Kirkland's Home has to offer, we found this stunning gold and very modern fixture with the prettiest glass globes. As you can see from the before, there was a really basic, builder-grade light fixture in the room, and it was painfully drab.
Mirror | Table Lamps | Bowl | Sideboard
My rule of thumb is that every room should have at least three light sources, so we found the prettiest fluted lamps to use on the buffet, and we also hung this tarnished mirror, which helps bounce light around the room!
The easiest way to flip your room into a showstopper is to update the lighting! Luckily, Kirkland's Home has a multitude of value options without compromising on quality. Little tip: make sure you use the right bulb temperature and brightness to enhance the impact! Here's a breakdown of everything you need to know about choosing the right light bulb!
3. Push the limits with scale and shape
I think a lot of people think that if they have a smaller room, they need smaller pieces of furniture. Pushing the limits with scale can make a room feel larger and more welcoming and inviting. You want people to feel like they can pull up a chair and feel right at home.
Along with scale is height! Since the lower third(ish) half of the room is painted, I used this taller storage cabinet to help bridge the gap between the chair rail and the crown. Placing a vase with these tall branches we harvested from Becca's yard really lifts and expands the room. Both the cabinet and the buffet are also just super practical for a dining room, especially with a neighboring kitchen that's short on cupboard space.
Let's talk about the focal point of the room! This room is full of right angles. It's a rectangular-shaped room; the entrances are squared, and the buffet and cabinet have square corners. The oval table, which can also be a circle without the leaf, really softens the room in the center, right where the eyes are supposed to land. It's always a good idea to repeat shapes, and we did that with these unique chairs. We found these wooden chairs with upholstered seats and rattan back at Kirkland's Home, and they're the perfect mix of materials and color (plus they're comfy to sit on). Very on-trend, too.
4. Keep the colors central
We rolled in these captain chairs to add more color and drama to the room. That's right; they're on casters, which is incredibly practical since the trickiest part about captain chairs is the scooting in and out! Keeping the color in the center allows the room to expand outward, making it feel larger and brighter! I'm always surprised at how there's always something new every time I go to Kirkland's Home. They're so good at keeping up with design styles and ever-changing friends, and they somehow do it with quality design and amazing value.
Of course, it wouldn't be a CLJ room makeover without a CLJ rug! Without even selecting a paint color yet, I knew the Jules Lagoon/Brick would be perfect with all the Kirkland selections we made because it's so versatile in every room. Rolling out a colorful rug is another great way to keep the color central and the walls neutral and bright!
5. Keep the art neutral
By keeping the color central in the room, I knew that hanging more neutral art would maximize the visual space. We hung these textural canvases from Kirkland's Home on either side of the cabinet, and I love how they add interest to the white walls without bringing in too much contrast.
Art | Vase | Glass Dome | Crock
Hanging the art on either side of the storage cabinet is a super traditional way of hanging this modern art, but I love that balance! If we had put really bold or busy art on the wall, it would have made the room feel smaller and too busy for its size. Speaking of the curio cabinet, we stocked it full of beautiful glasses, pitchers, canisters, and dinnerware, all from Kirkland's Home! I love seeing everything peekaboo through the glass sliding doors.
Styling tip:
Whenever I'm styling a room, I like to place different living things on separate surfaces. In this room, we had the buffet, the table, and the cabinet. I styled stems on the cabinet, hydrangeas on the table, and a basket of pears on the buffet. It really livens the room without feeling redundant, and they really complement all of the stunning tableware we found at Kirkland's Home.
I also love setting dishes and linens out on the table for styling, and who wouldn't want to make this ribbed dinnerware the star of their table? They're so fresh and modern, and you can't find fluted glassware as stunning as these at such an incredibly low price.
Shop Tableware

We have so much fun doing these one-day room makeovers as a team! And it was even more fun to be able to use so many pieces from our local Kirkland's Home! You can get the look for your own home or hand-pick from the multitude of styles and design options on their website and in-store. They're experts at merging quality, and value, for an approachable experience at making your home a place that you love to live, which is what CLJ is always about.