A couple of you asked about the chalkboard labels on the extra storage baskets when we showed you Faye's nursery last week. I added the labels to help me identify what's in them (naturally) but also to bring a cohesiveness to the mismatched baskets. Also, the truth is, they aren't chalkboards at all and they were cheap, fast and easy to make.
All you need is some black card stock cut into whatever label shape you want. I had these that were pre-cut into rounded rectangles so I just went with that. A white paint pen. And some mini brads. (I found all of these from our local craft store.)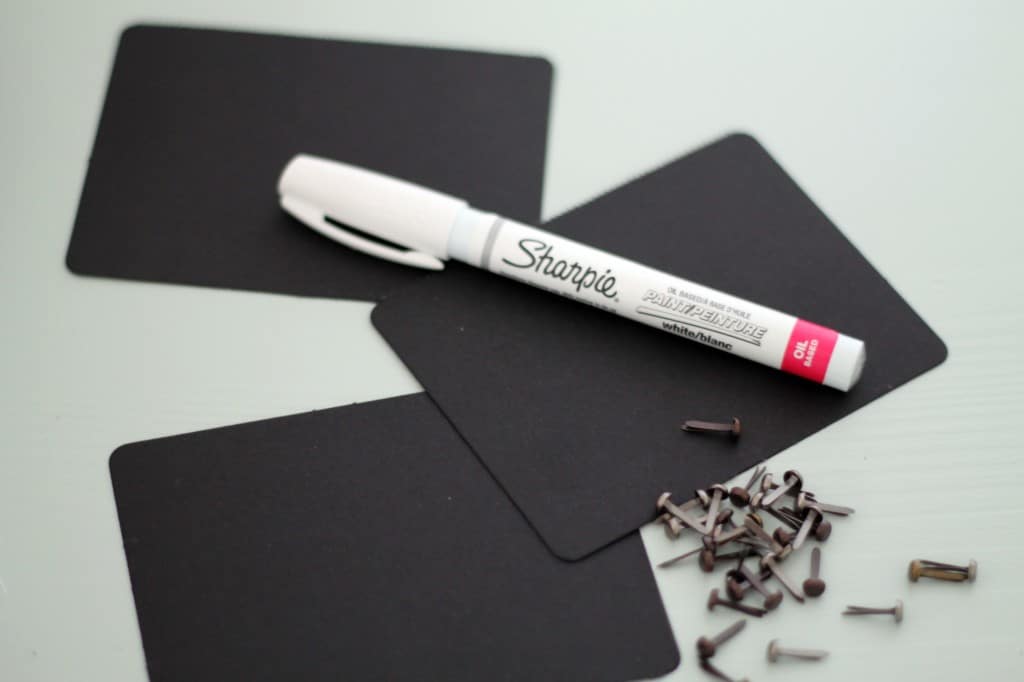 Write your labels–I like doing this as fast as possible so it looks natural and not overly stylized. Poke a little brad through the card stock (you may need to pre-poke with a pin or needle) and stick it right into the basket.
Basket texture is perfect for these brads because in the places where there isn't a hole (or in my baskets that weren't as open-weaved) the brads stuck easily into the fibers. And the places there was an opening, I opened the brad to traditionally fasten it.
The whole thing took less than 5 minutes for all four baskets and although it has a cool chalkboard effect, it's a lot cheaper and simpler than what that would entail. Easy peasy, right?
Ps. To see the rest of Faye's nursery, click here.
Also! Leather herb labels here.