We've been officially moved into our bathroom for about a month now (cue celebration music) but we still have a few details to finish up before the reveal. If you are doing any sort of renovating or redecorating right now, you know that shipping times are crazy long, so we're just being patient.  Last week we played musical light fixtures above the tub), but we would not be where we are without the never-before-introduced supporting role in the show: say hello to the bathroom vanities.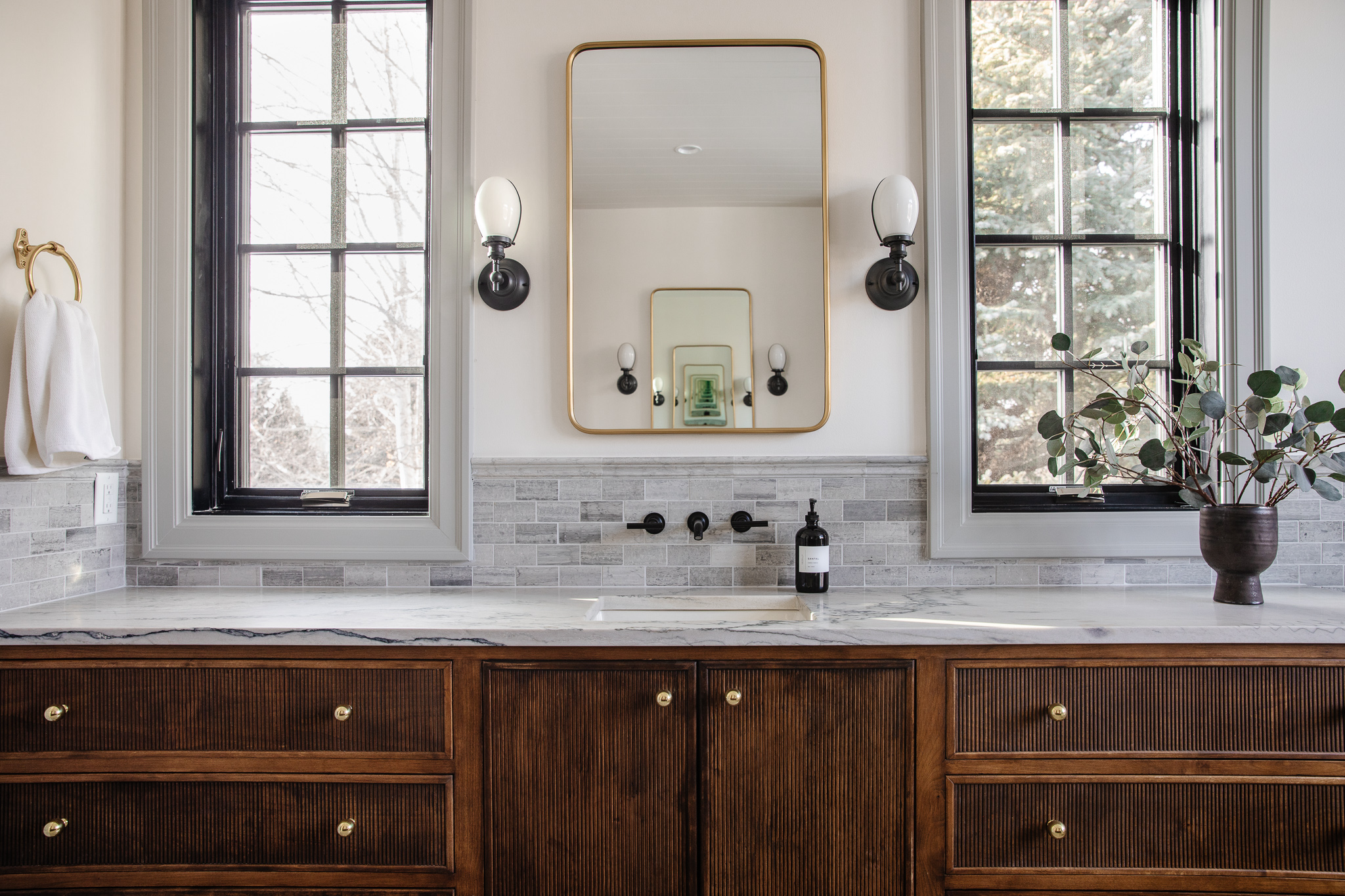 This year we've had a lot of contractors coming in and out of our house, which happily led us to meet Dustin of Pins & Tails. Dustin has a passion for wood working and we were so pleased with how he refinished our front door, that we HAD to ask him if he would be interested in making the cabinetry for our bathroom vanities.
Best decision.
In the inspiration mood board we put together, I included these jaw-dropping fluted cabinets I had heart eyes for. Everything about them made me swoon, including the medium to dark wood tone and the inset cabinets that sit ever-so-flush. I showed Dustin and he was all-in. I also expressed that I wanted the vanities to mimic more of a furniture piece, rather than built-ins and he suggested a more hidden toe-kick so that we get the look of a furniture piece, without all the dust and lost things accumulating beneath. I love the sound of that. 
When I was designing the upper cabinets on my side, I really wanted them to mirror the two 5' windows on Chris's side. Just a little nod of symmetry.
Are you ready for a confession? If I could do it again…
…I wouldn't do the towers. I spent so much time researching, and so many people said the standing storage was necessary. I thought I would love having all the added storage, but it's just a LOT of storage. I underestimated how much I would be able to fit in all the drawers and the uppers aren't quite being used to their full potential yet. Although, maybe with time I'll be able to fill them. Their story is just beginning.
Besides the aesthetics, we needed our vanity to function for us, which led to a taller counter-height of 37 ½" (Chris and I are quite tall and this height feels like a true luxury!), and also hidden outlets inside of the drawers and cabinets. 
Dustin showed us some samples of several wood types and stains, and ultimately we loved how the Provincial stain treated the Alder wood. It applied so evenly, and was a more affordable option than oak or walnut. 
As soon as the bathroom tile was in, Dustin installed our vanities and he did not disappoint. Dustin used a router for every single fluted line. 1500 beautiful, hand-crafted lines. 
So let's get into it. All of the drawers are soft-close, and at this point, I can't imagine going back to any other type of "close" to be honest. Talk about satisfaction. The hinges on the cabinet doors are actually set into the wood instead of screwed on the outside. This was Dustin's solution to make them flush, plus they can actually open wider than 90 degrees which is a luxury I didn't know I needed until now. All the doors also have a magnetic close so they stay in place. Few things are more annoying than a cabinet door that doesn't want to stay closed, especially since I like to keep a little trash can hidden under the sink.
We decided to use these 1 1/4″ brass knobs for the drawers and cabinets (these from Rejuvenation are similar) because we used the same ones (albeit the smaller version) in our closet and I really wanted the suite to tie together. 
Chris's favorite thing about his side is the outlet inside of his drawer. He is able to open one drawer and get completely ready. His shaver and blow dryer (yes, blow dryer) are already plugged in and ready to go, and he can just simply close the drawer when he's done, leaving no evidence behind.
Custom cabinets are not the most affordable so we wanted to share how something custom like this might cost. Materials and labor included, we landed at about $8,000. That price reflects a little higher than usual because of the hand-crafted fluting, which for us was so worth it.
We hope to share photos of the finished bathroom soon!!
Sources:
Wall Color: Alabaster by Sherwin Williams
Trim Color: Lamp Room Gray by Farrow & Ball
Windows: Pella Architect Series
Tile
Mirror
Sconces
Towel Ring
Hand Soap
Vase (similar)
Faux Stems
Faucets
Cabinet Knobs
Maple Tree
Peony Art
Cloud Art