I don't typically decorate my home according to the seasons. Not in a literal way, but I do like to swap out a few decor staples seasonally to keep things looking fresh. Bringing in spring stems is one of the easiest ways to subtly decorate for the season! Honestly, it can be as easy as bringing in a few branch clippings from outside and propping them into a vase. Quick, in season, and free! If you're not in an area where branches are green quite yet, or you're like me and you want your branches to last longer… faux is a great way to go. Some might say it's controversial, but these are not your grandmother's fake flowers. Greenery has come a long way and looks and feels more realistic than ever!
Vase | Peach Stems | Bay Leaf Stems | Pendant | Serve Board
Funny story… I actually ordered a bunch of stems for this post and the most gorgeous bunch of REAL hydrangeas showed up. It was a total fluke, and for a minute I thought they were a gift because I wasn't expecting real hydrangeas! I honestly still can't believe their generous size and it's a mistake I'm glad I made! Some of the blooms are the size of my face which makes for the fullest bouquet. I was also really missing the hydrangea clippings from our last house that dried and lasted months so this feels meant to be!
Hydrangeas | Vase | The Kinfolk Home | Pacific Natural at Home | A Tale of Interiors | Art
I put together a round-up of some of my favorites spring stems, including the very real hydrangeas. Everything else is faux, but now I'm curious about ordering more live stems since I was so pleasantly surprised with their quality! We're hoping by end of summer to have an abundance of options in our yard to clip from, too!
My Favorite Spring Stems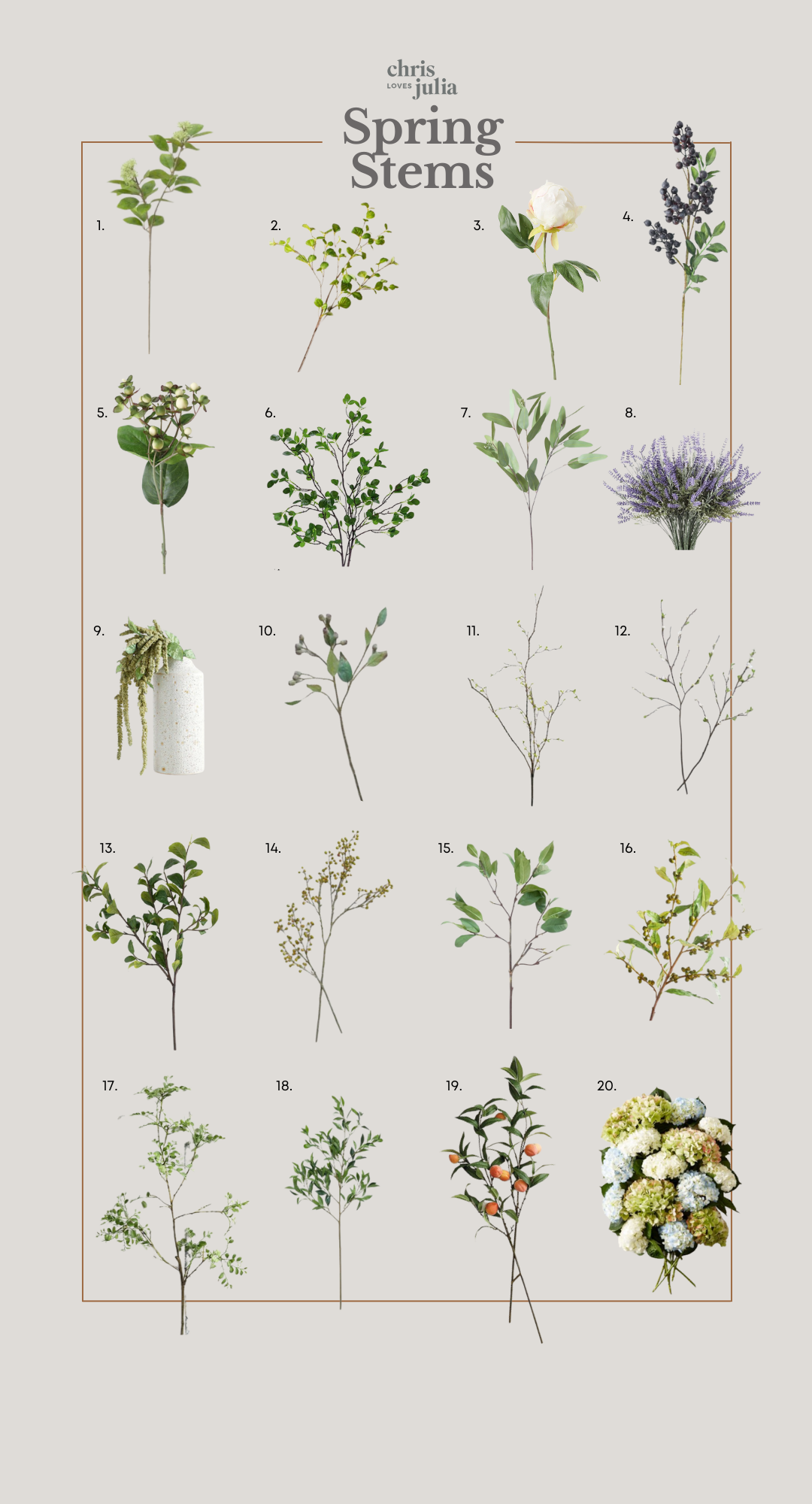 1. Seeded Green 28″ $5
2. Hazel Leaf 28″ $6
3. Peony 18″ $10
4. Berry Branch 24″ $12
5. Hypericum Berries 22.5″ $14
6. Eucalyptus Leaf Ficus Twig 43″ $15
7. Eucalyptus Branch 31″ $16
8. Lavender Bundle 15″ $15
9. Dusty Green Amaranthus 45″ $20
10. Eucalyptus Pod Branch 30″ $22
11. Green Baby Leaf 33″ $25
12. White Quince 46″ $28
13. Gardenia Leaf 20″ $35
14. Green Ilex Berry Branch 32″ $45
15. Laurel Leaf 37″ $38
16. Coffee Branch 36″ $49
17. Green Petal Leaf 39″ $49
18. Green Bay Leaf 60″ $59
19. Peach Stems 36″ $58
20. Fresh Hydrangea Bunches 23″ $119
Shop Spring Stems