Whenever we finish up a project, we get a lot of questions surrounding the budget. "How much did this cost" is coming through in my DM's and I get it! I get reluctant to share only because I realize everybody is working within different budgets and I want what we do to always feel inspiring and approachable. In the spirit of being transparent however, I'm breaking it all down–everything from the faux peonies to the custom mural wallpaper!
One thing to note is that I definitely DON'T buy everything brand new for a room renovation like this. Most of these pieces I've had for years, and they've made appearances in other rooms of ours. Including the heirloom piano of course, which we inherited from Chris's grandmother. The credenza that has popped up in several rooms. The rug, which used to live in our closet. The lamps were in our old dining room. I like to think that some of these pieces will have future homes (in different rooms not a different house!) as well and their journey is just getting started! That being said, let's take a look shall we?
Budget Breakdown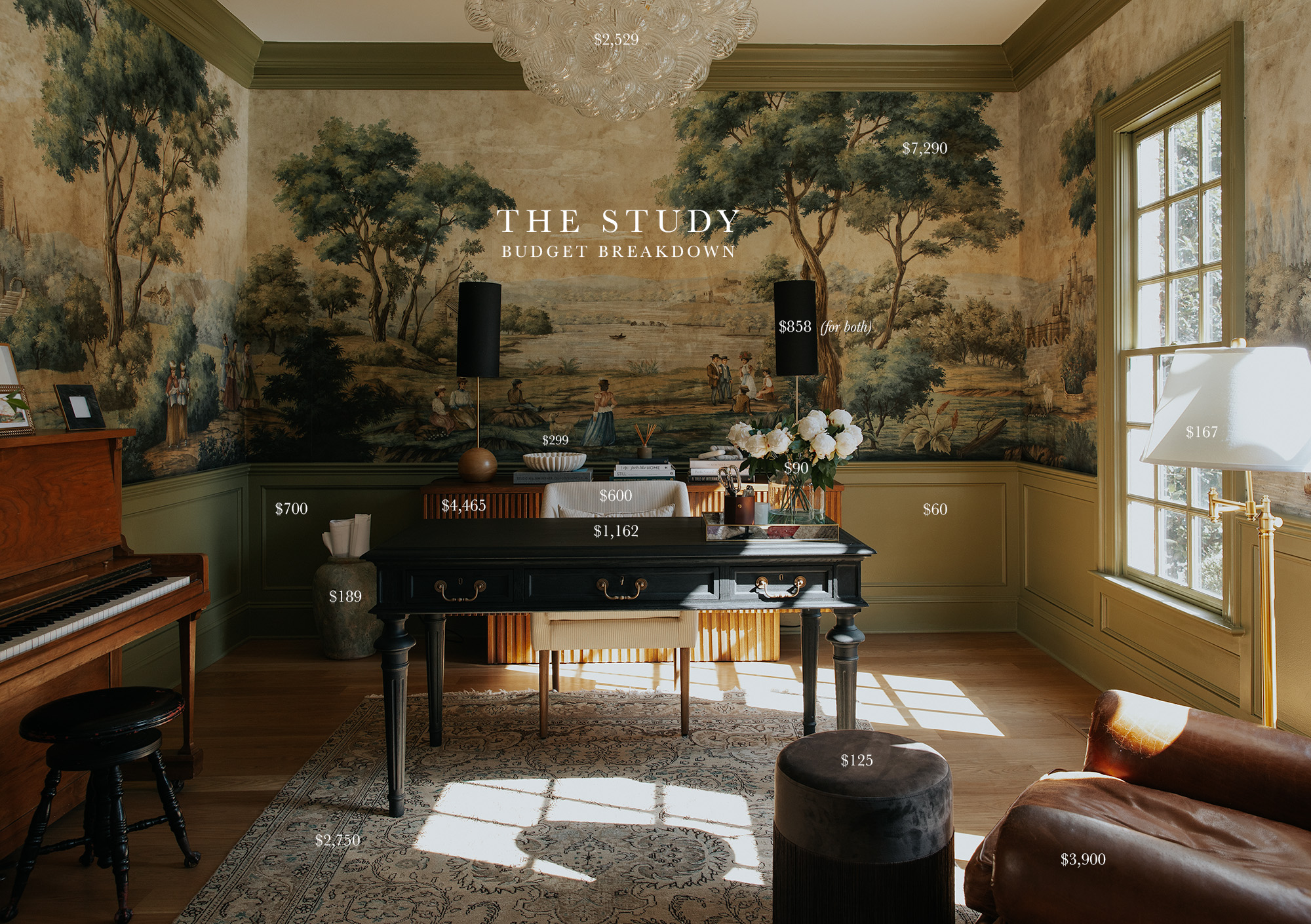 $700 – Wainscoting Material (see the full tutorial here)
$60 – Paint (SW Sheraton Sage in Emerald line)
$7,290 – Mural Wallpaper (roughly $405 per panel)
$2,529 – Bubble Light
$4,465 – Sideboard (not sold anymore. This one is similar)
$858 – Lamps (x2)
$299 – Fluted Bowl
$1,162 – Desk
$600 – Chair
$90 – Faux Peonies
$2,750 – Rug: The Vintage Rug Shop
$3,900 – Armchair (vintage from Chairish)
$167 – Floor Lamp
$125 – Fringe Stool
Obviously the big spender was the mural wallpaper! It wasn't necessarily custom, but when we gave them the room measurements and placement of the windows, they made adjustments so it's all seamless. It's pretty incredible! When we budget for a room, I generally have one splurge-worthy piece and for this room it was definitely the statement wallpaper.
Again, my intention in sharing is to inspire which is why I like to pair these budget breakdowns with a look for less! Everybody's budget looks different but if you're have an idea of what you like, then you can search for pieces that are within your range! I would also encourage anyone who's trying to achieve a look they've seen before, to bring in their own collected pieces! It's what gives a room character and charm, and what makes it special to you! Without further ado, here's how you can achieve the study look, but for less!
1. Wood Lamp Base $60
2. Mural Wallpaper $168+
3. Scalloped Bowl $30
4. Fringe Stool $125
5. Glass Vase $26
6. Wood Credenza $1299
7. Marble Links $35
8. Black Cylinder Lamp Shade $22
9. Upholstered Chair $170
10. Bubble Light $209
11. Leather Armchair $599
12. Desk $419
13. Gold Picture Frame $6
14. Rosemarie Ivory/Natural Rug $249
15. Faux Peonies $10
16. Brass Floor Lamp $95
Shop The Study Look For Less
More Looks For Less