Before we focus all of our efforts, and posts really, on the new house that still isn't 100% ours (the whole thing is quite ridiculous–hopefully we'll all have a good laugh about it next week #nervouslaughter), there is one last crowning, whirlwind event that took place at our last house to cover.  A photoshoot of our kitchen!
Unfortunately that's going to be the best photo of the kitchen in this whole post, and it isn't even from the shoot.  My camera was already packed so I had to use my iphone that has a
Lifeproof case
on it, which is great and indeed lifeproof but it also may downgrade the quality of images.  Onward.
As I mentioned in previous posts,
The Tile Shop
partnered with all that glorious marble tile in our last kitchen and we finished it just as we were getting ready to move. Just as we checked the project off our list and
posted about it
, Megan and Brian asked if they could come photograph it for
their blogger spotlight
on The Tile Shop's site.
(Uh, spoiler alert: They came.) The only catch was that when they contacted me, we were moving in s-i-x days.  Originally we thought there was no way we could get it done, as much as we wanted to.  But we rearranged some things and rented our Uhaul a couple days early and got the truck packed so they could come, literally the day before we drove ourselves and all our belongings to our new city.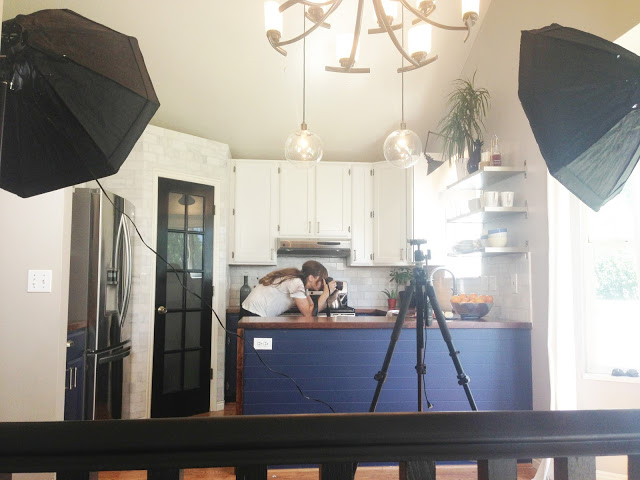 Our house was completely empty, including the kitchen. Everything was in the moving truck.  Megan and Brian brought all of the accessories from Target, West Elm, Crate and Barrel–whatever we have around here–and made it look alive again. Those open shelves got a lot of white serving ware, just how we like it. You can see from the very first photo that although our stuff was different, it still mostly felt like us which I totally appreciated.
After the real star, the kitchen, was photographed at every possible angle they wanted to get a few of us, too.  The clothing we ordered for the shoot didn't get here in time–it arrived at the house 2 hours after they left–so we dug through bags of clothes to find anything that wasn't a t-shirt.  Or in Chris's case, not a wolf t-shirt.
It was hilarious to try to get all of us, although small in numbers, camera-ready.  As soon as Charly was still and looking at the camera, Greta was making a silly face, or in the above case–eating the props!
Megan and Brian were the sweetest and really good at all of the things they do. Instant friends. We already have plans to welcome them again in our Idaho home, as soon as we nail that down, oh boy.
Happy Weekend!