Every year, we tally up our most asked about questions regarding things in our home and give you our honest review of them, including the good, the bad, and would we really buy/do it again?
In 2017, we covered our (old) living room coffee table that we wouldn't do again and since replaced, the craft table in the family room, the fan in our bedroom, our toy storage, our office chairs (also have since been replaced), our master bedroom bed which has been 100% improved from that post with the addition of our sleep number, the sectional in our family room, and our faux wood tile floors.
In 2016, we covered the glider in the nursery (which is still going strong!), our dining table which we'll touch on again this year, our entry rug and our white concrete countertops! And a few other things that are no longer in our home–so you can imagine they didn't score well.
Here are some updates on 8 specific items in our home, after the honeymoon phase:
1. IKEA Cabinetry (Laxarby Finish)

The Good
We have used IKEA cabinets, closets and shelves in quite a few of our most popular projects. They're affordable, easy to assemble, and really versatile with a little imagination (looking at you,
fauxdenza
…which is not a part of
our entertainment built-ins
). We also love the customization options of the kitchen cabinet line (see a video tour inside our cabinets right
here
), and how all the drawers and doors come default with soft-close hinges. These cabinets have held up amazingly well, and by splurging a bit on hardware, nobody would ever guess they're IKEA. (Like, no one even believes us when we tag it right there on Instagram.)
The Bad
The only thing that is a bit of a downer is the colors of the cabinet boxes themselves. They come in white and a dark, wood-grain look brown. If you're using black cabinet fronts (like we did), you have to plan for the matching filler pieces and trim to cover up as much of it as possible. The brown peeks out in a few inconspicuous places in our kitchen (like maybe between the cracks of two cabinet doors), but not enough to really bother us. But it would be nice for IKEA to offer maybe a lighter wood tone and black. The other bad is we hear they are discontinuing the Laxarby finish. Which has me thinking so many crazy thoughts like, "are we EVER EVER going to want upper cabinets for the sink side?!"
Would we do it again
Emphatically, yes. They're incredibly sturdy, functional, customizable and affordable. We would do them again, and we will do them again in our cabin, hopefully later this year.
Our outdoor fireplace really makes our entire backyard experience. For such a large deck, you need a focal point to ground the space and help it feel cozy. Our fireplace makes the deck feel like an extension of our home, and with neighboring homes that are quite close, coupled with the trees it makes the backyard feel private.
The Bad
Because we built it ourselves (see how right
here
), we didn't want to deal with gas lines and all that. Looking back we should have planned it out better and just had a gas line run before adding the decking (but
after
the post holes had been dug – safety first) then installed an outdoor gas fireplace. But we love the crackle of a fire and the glow of real wood embers, so we went with wood burning. In reality, the task of building a fire, tending it for hours and cleaning up the ash turned the fireplace into a "special occasion" item, and we rarely used it.
But back to the good for a second–we fixed that late last summer! We had a gas line run under the deck and out to the fireplace, and added an outdoor, gas burner. It lights up beautifully, instantly, is so warm, and much more convenient to use.
Would we do it again
Definitely yes, but we would have planned for gas in the beginning.
3. BluDot Branch Dining Table
The Good
We purchased this table specifically because it is a little more narrow, so it fits perfectly in our great room without crowding either the sitting area or kitchen. We also love the color and how sturdy it is. The finish is hard as a rock and it holds up to daily use like a champ. Really, it's an amazing, heavy, quality piece of furniture.
The Bad
The only thing we don't love about this table is the texture on the top. It's really quite rough, and there are hundreds of tiny ridges in the wood grain where food specs and play dough gather. Our oldest doesn't even like doing homework on it. We have to use a stiff bristle brush to clean it out.
Would we do it again
I think yes, just because it's taken such a beating and still looks beautiful and new. But we might try to see what we can do about the top. If we can figure out how to match the color and finish, we may just plane the top ourselves and make it smooth. Anyone with experience doing something similar?
4. Low Back (plastic!) Spindle Dining Room Chairs

The Good

We got
these chairs for our dining room in December
, but we actually have had 1 that I used as my office chair for years! So we knew we would like them. They're very stable and secure and comfortable and wipeable. The lower backs don't create an intersect across the open sight line of our great room. And! Because they are molded plastic and not wood, even when they get scratch, you can't tell because the scratch is black! We've had so many of our older black wood windsor chairs get scratched from back pockets or shoes from little ones–I felt like I was always touching them up. I haven't touched these once. They are also stackable, which is nice. We generally live with 6 around our table and have 2 stacked and stored away.
The bad
I think they might be getting discontinued. They are still sold out everywhere from when I posted them after we bought them. One reader finally emailed a retailer and they said that they were almost losing money on them (so up the price!?) and weren't sure if they were getting them back in stock. Of course this is bad for everyone that wanted them, especially after my glowing review, but it also makes me bummed every time anyone asks where we got them and I don't have an option to give them.Would we do it again
Yes! These chairs feel classic and easy with kids. I'm going to hunt around for some similar ones.
5. Crate & Barrel Yukon Coffee Table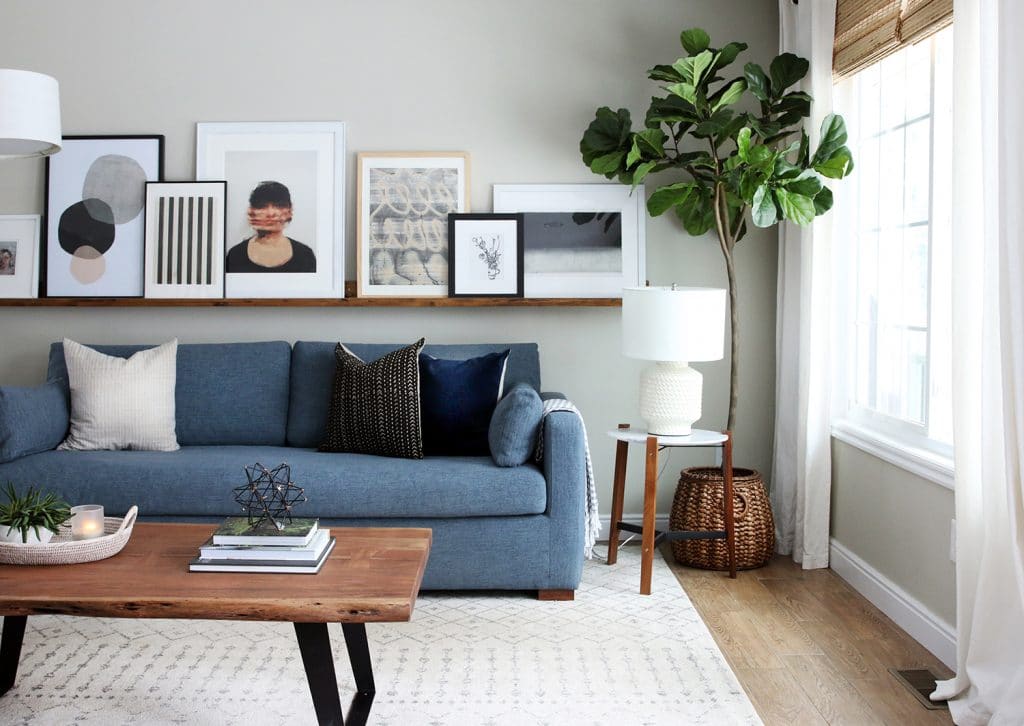 The Good
Last July, we sold our metal coffee table and purchased this one from Crate & Barrel and we truly love it. Almost everyone that comes over compliments it and touches the butterfly joints and looks underneath to see if it's really beautiful there, too. It's actually even prettier in person than it is online. It's substantial for little Polly (or even me!) to pull herself up on without any fear of it toppling. Heck, sometimes it doubles as a bench when we have a big party and people are looking for a spare place to sit. We also love the warm wood tone it adds.
The Bad
I'm not sure if I'm supposed to oil the wood, or what! The wood tone is beautiful, but if I wipe it down with a wet rag after a spill or stickiness occurs, I see its depth and whoa! But then it dries quite a bit lighter. I might try oiling it? I just don't want to ruin a good thing.
Would we do it again
Yes! It was a larger purchase and I remember buying a coupon on eBay and still taking the weekend to think it over. But now, I would have paid full price in a heartbeat. It's the anchor of the living room.
6.  Dyson Cinetic Big Ball Animal Upright Vacuum
The Good
The power. It's really no joke – these Dyson vacuums have a lot of sucking power and they clean up our carpets amazingly well. With three little girls, my postpartum hair loss (that won't quit!) and a big, hairy, shedding dog–a good vacuum is a must around here. We're constantly emptying the canister like, what?! how?! I just did this! But in a good way. There's also no filters to change or clean, which makes it easy.
The Bad
For being so expensive, they feel kinda cheaply made. (Do you agree?) When you assemble it a lot of the pieces just snap in place and they feel a bit loose. If you get the large one (like we have) it is pretty clunky and not great for vacuuming stairs. There's nothing smooth about moving it from its locked upright position to the ready-to-vacuum position–more like, am I doing this right? I just pull until it comes down? The hose tool doesn't do well with tight angles and the overall sucking power isn't noticeably greater than our old Shark vacuum, which we still have–and feels like a smoother product.
Would we do it again
No, I don't think so. Knowing what we know now, we probably would have just sprung for a higher end Shark vacuum – and probably will, sometime in the coming months.
7. World Market Outdoor Lounge Furniture
The good:
Honestly, you can't beat the price for looks on this outdoor furniture, which is why we bought this sofa x2 two years ago. (Psst! They are having their big 20% off outdoor furniture + free shipping sale right now here–this is when we scored the best deal when we bought ours!) We sprayed the cushions immediately with outdoor scotch guard and they have stayed looking pretty good through two complete seasons.
The bad:
The cushion covers are pretty hard to get back on if you do opt to throw them in the wash. After a couple times, I decided it wasn't worth the effort and resorted to surface washing instead (you can see how we did that in this post).  Also, you aren't going to sink into the cushions–they are more  stiff/firm. They do soften over time and we actually don't mind them, but some might.
Would we do it again?
Funny enough, we just did! For the past 2 years we had 3 smaller 2-seater sofas out there and two chairs and it always felt a little crowded. So, we decided to take advantage of the sale and we purchased two three-seater sofas (these! they have a slightly different look I'm excited about!) that will seat the same amount of people as all three sofas, but give us more breathing room. We're anxious for them to get here.
8. Wall-to-Wall Carpet in the basement
The good
We wrote an update on our carpet last June after having it for about a year and a half right here, so I guess that means we're over the 2 year mark. The pattern is still pristine with no visible tracks or faded walkway areas which we're thrilled about. Another good thing to note (although a little gross) when Willow was ill a few weeks ago, she went to the bathroom in the basement and it cleaned up soooo easily (I used this) and left behind no smells or signs of it ever happening. (Ps. Willow has made a full recovery and seems to be back to her sweet self.)
The bad
Two months ago, one of our girls received a Make-Your-Own Bath Bomb kit and opened it without my knowing. It had dye in the kit and some bright pink and blue dye got on the carpet. Two spots, one the size of a quarter and one the size of a jelly bean. I called the carpet cleaner right away and they couldn't get it out. I'm still not convinced it won't come out–even though they said they tried their strongest stuff. I just feel like THERE HAS TO BE A WAY. Because it is a StainMaster carpet, I'm also looking into our warranty.
Would we do it again
Carpet–yes! We love the lightness and comfort it adds to our downstairs. The subtle pattern feels fresh and hasn't worn a bit. The DIY Bath Bomb Kit–no. way. 
Hope this answers any burning questions you have! If I missed anything, feel free to ask in the comments! Check out the Shop Our House page for all the sources in our home!
SaveSave
SaveSave
SaveSave