There's one detail of the nursery we haven't expounded on yet, but I get questions about all the time–the light blue flat roman shade. Why did we choose shades over curtains? How did we choose the fabric? How dark does the room get when they are closed?, etc. And since we did put significant brain power into choosing the shade, I suppose it deserves its own post that will hopefully help you when deciding on your own window coverings…or maybe you just love gifs (you're in for a treat!).
For the first question, shades vs. curtains, we really weren't sure at first! The Shade Store, a sponsor for the One Room Challenge who provided participants with window coverings, carried both shades and curtains (and a bunch of other options in the colors we were leaning toward) so our options were wide open. We actually went as far as polling our followers in Instagram Stories! At this point, we were leaning toward shades over curtains, because it felt simpler with so much going on in the room–wallpaper and trim work being the most immediate, adjacent things–and a vast majority of you agreed with us that a roman shade was the way to go. Do I think curtains could have worked in here? Absolutely! But I'm so happy with where we landed. It really allows the wallpaper and trim work to take center stage.
Let's talk fabrics. The Shade Store provides free samples and I took advantage, as you should! In fact, they advise you to never order window treatments from them without first getting samples. We ended up getting two rounds and they arrived within days. The first round was mostly whites, creams and grays and they all felt a little safe and a little flat at the same time. Once we established light blue as the accent color for the room, I ordered another round of swatches I was immediately very excited about.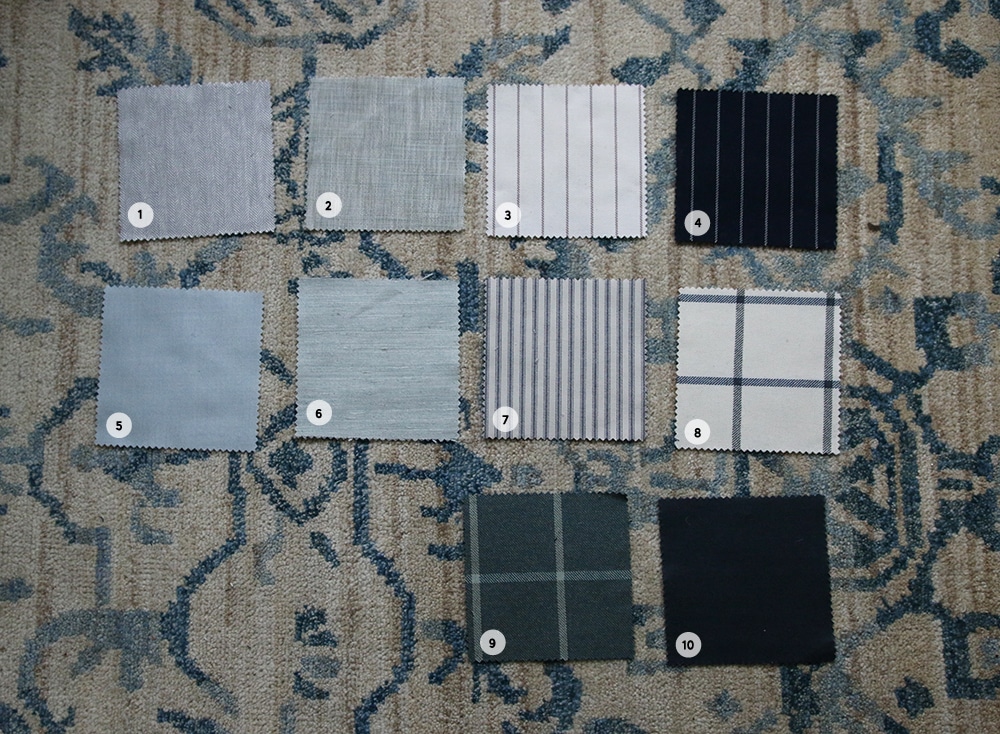 1. Herringbone in Mist
2. Korinthos in Aloe
3. Suit Stripe in Natural
4. Suit Stripe in Navy
5. Wool Flannel in Azure
6. Raw Silk in Silver
7. Cottage Stripe in Ink
8. Highland in Batik Blue
9. Highland in Cove
10. Linen in Midnight
I ordered some patterns and solids and textural solids and put them all on the rug so I could see what worked with that much larger pattern the best. Because it was a larger pattern, any of these smaller scales could have worked, but throw the cloud wallpaper in (which, it absolutely was in!) and I started to get a little nervous about that Suit Stripe and Highland plaid I initially loved so much.
We quickly narrowed it down to the Wool Flannel in Azure (left) and the Raw Silk in Silver (right). I loved the texture of the silk, but it was definitely a little warmer. I worried that the the warm undertones of the wallpaper would make the almost greenish "Silver" look very green and add another accent color to the mix we weren't expecting. So! Azure it was. It's the softest fabric and blue. We just love it.
There were no technicians in our area to install the flat roman shade, something they apologized for over and over, but we promised them was no big deal at all! Especially after the install took us less than 3 minutes. No joke! We chose an inside mount, flat roman shade, and it came with a few screws for the install hardware. All we had to do was drive the screws through the inside header of the shade, through pre-drilled holes, into the window molding. Actually the easiest window coverings we have ever hung.
Now for how dark the room gets, I made a .gif for you! All of the fabrics we were eyeing, had the option to add blackout lining to it, which was obviously a very important part of any nursery or kids' room so it can turn instant-night (!!) at any point of the day.
As you can see, the room gets almost completely pitch-black once the shade is fully closed, but there is a small line around the perimeter. If we did an outside mount, that would be eliminated completely, but in our previous baby experience, that line of light won't make a difference because it isn't illuminating anything else in the room and I much prefer the look on an inside mount when there's no accompanying curtains.
Sidenote: my mother in law always tells me how she would leave windows open, lights on and even vacuum in the baby's room while they were napping and they always slept right through it! Howww?! #superwoman. I'm more of a dark-as-can-be, sound machine on blast, don't you dare open the door! But I guess either way, the baby sleeps. What are your baby-sleeping secrets or must haves?
I hope that answers all your questions about the shade. To see the complete nursery reveal, check out this post. And to see a more budget-friendly alternative, check out this post!
SOURCES
Trim – Metrie | Wallpaper – Cole & Son's Nuvolette 97/2004 Wallpaper | Overhead Light – Rejuvenation | Area Rug – Rejuvenation | Wool Flannel Blackout Flat Roman Shade in Azure – The Shade Store | Crib – AllModern | Tassel Crib Skirt – PotteryBarn Baby | Crib Sheet – PotteryBarn Baby | Blue Crib Pillow – McGee&Co | Pink Striped Crib Pillow – McGee&Co | Cat Stuffed Animal – PotteryBarn Baby | Light Blue Pom Pom Throw – Annie Selke | Mobile – West Elm | Floor Lamp – AllModern | Pouf – AllModern | Graham Glider – West Elm | Pink Tassel Pillow – Urban Outfitters | Side Table – Target | Book Basket – Target | Wooden Rattle – Target | Dresser – The Land of Nod | Table Lamp – Target | Custom Ultrasound Print – Baby Blue Print | Acrylic Frame – Crate & Barrel | Vase – Jill Rosenwald | Hamper – Serena & Lily | Mirror – Target | Burt's Bees Striped Changing Pad Cover – Amazon