All right everyone, so today is kind of a big day for me and I'm excited to share a couple things with you about the cookbooks we've been working on–including what they'll actually be about! I've been really researching, testing and fine-tuning everything going into these books because I want them to be valuable for the people who read them–that's you. We're really getting there. So close! That said, I'd like your help with one of the very last parts: picking the cover style.
There are 3 books that I'll be putting out at the same time (drum roll, please):
Chris Loves Burgers
Chris Loves Wings
Chris Loves Tacos
We want them all to look like they belong to the same group, so while you'll be voting on which burger cover you like best today, the other two covers will be in a similar style. Make sense? We've worked with some very talented, professional designers to come up with a few cover options that we like, and we'd love to know which style you prefer. Here they are: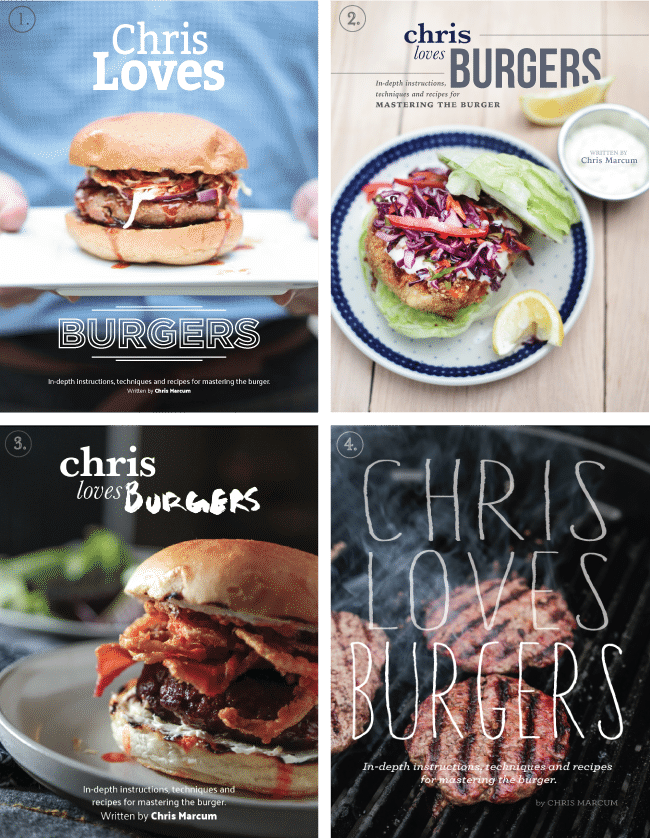 Now, I want you to drop any assumptions you might have from the titles, and don't be thinking these are only for men. They're definitely not. When Jules and I first started talking about me writing cookbooks, I knew I didn't want to just do a book of recipes. Don't get me wrong, these books have some rockin' recipes in them and I hope they're a great start for you, but I want people to feel comfortable cooking anything. I want you to be able to walk into your kitchen, open the pantry and make something awesome based on what you see. How liberating would that be? Each of these book is between 60 and 80 pages of beautiful photography and extremely easy-to-follow instruction and technique, designed to free you from recipes, not tie you to them. Knowing the basics of cooking techniques has made all the difference for me, and I hope to see it do the same for y'all.
Let us know which cover you prefer using the poll below. The winning cover will most likely be the design we use for all three of these first books (though we'll also be taking comments into consideration and may make changes to each design based on your feedback), and possibly more in the future. And once I have all the finishing touches made to the ebooks, you can expect to see them ready for download within the next couple weeks (fingers crossed).