As
I mentioned on Friday
, we are turning our attention to our exterior while the weather is warm and the weeds are abundant.  Our whole yard needs some TLC, but this weekend we started tackling the patio–specifically staining the patio.  Staining the patio was a one-day project (love those!) and took this:
To this:
We have some experience staining concrete from when
we stained our guest room floor
 (to this day–our most popular post), and were truly inspired by
this tutorial
.  The patio was even easier (Less carpet glue to remove. Less walls to protect.) Here's how the project breaks down.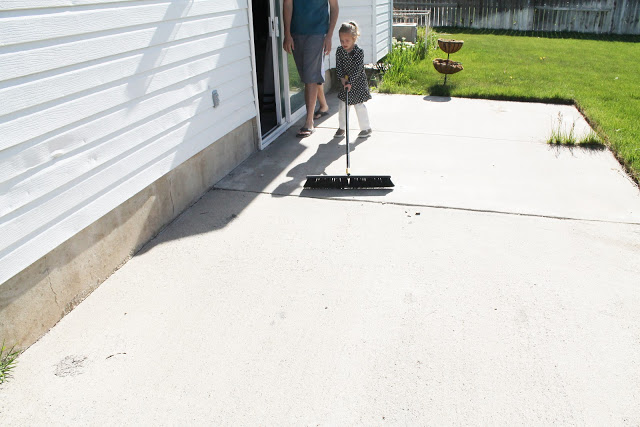 1.  Before you start clearing the patio of dirt, make sure the grass surrounding the concrete is cut really low so you don't miss the edges.  We used a weed-whacker and chopped it really low–don't worry, it will grow back. Then, thoroughly (really, really thoroughly) sweep your patio. We also had to pull some grass and weeds that had made their way through the cracks, too.
2.  Pick up some concrete cleaner.  We actually had this left over from the guest room.  I'm sure every brand has their own set of instructions, but we diluted the cleanser and poured it on the patio, keeping it wet for about 20 minutes.  Then after it sits for twenty minutes, you start scrubbing.  A large broom is really handy for this part.
3.  After you scrub, rinse.  All of the suds came rushing toward the corners.  Normally, puddles just seep into the grass, but we didn't want any debris settling back down on the patio waiting for that process so we set Greta up with the shop vac to suck it all up (this was her 3rd of maybe 5 outfits on Saturday).
4.  Now things are squeaky clean and you're almost ready to stain.  The last step is to protect your house.  The grass will be fine, but for our foundation + windows + siding, we used 2 rows of packing shrink wrap (quite a bit more durable than your kitchen's saran wrap) along the base of the house–securing it with duct tape along the way.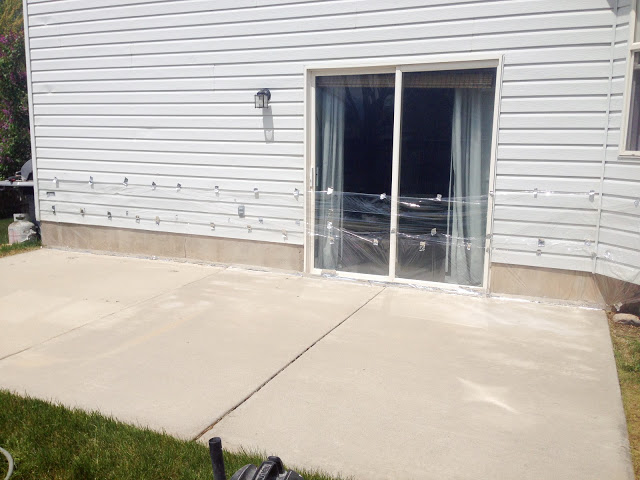 5.  For the stain.  We went with Behr's semi-transparent Concrete stain in "Loden"–a warm brown. We actually ended up using two gallons which feels like–a lot–but it is what it is, I guess.
We initially used our paint sprayer and then switched to a garden sprayer–which was recommended.  It worked a lot better than our paint sprayer for exterior use.  When spraying, we moved the wand in circular motions.
If you want a more consistent look, you can use a paint roller and go over the whole thing, but we love the natural look of how the stain settles.  It creates a lot of depth and some interest, too.
6.  Apply a second coat, leaving an hour in-between coats.
The stain is permanent, but we plan on applying a sealer sometime this week for extra protection. While this was the first of many steps to get the patio ready for…any type of enjoyment.  It was a step in the right direction and cost less than $100 to pull off.  Stained patios, ftw.