Today, I have a long overdue update on the exterior of the Pugmire's home! Back in June, I shared that they had wrote an amazingly catchy song and entered their home in a contest to win an exterior makeover.
My favorite line of the song is when they sang, "My favorite color isn't salmon, or Neapolitan ice cream." It became the neapolitan ice cream house. We couldn't see anything else. The brick was so pink!  Unfortunately, although they had the most votes and views, they weren't awarded the makeover. The grand prize went to a very deserving family in Michigan, and Preston and Corine were not left empty handed. The judges loved the song Preston wrote so much, they have hired him to write songs for their company. It still feels like a win. He's since written a couple songs and the Pugmires have decided to go forward in giving their house a facelift themselves. That's where we come in.
Preston and Corine used some of the money they made from writing the first song to replace the brown and white peeling siding around their home but they really wanted to get rid of the pink brick, too. Without them knowing, I reached out to some of our partners, Behr and Wagner and both wanted to be a part of the project. Behr donated masonry primer and paint and Wagner donated a FLEXIO 990 to get the job done (psst–they want to give a paint sprayer away to one of you, too! Easy entry just for reading at the bottom of the post).  Besides hanging the siding, they gratefully did the rest of the work themselves and the results are beyond impressive:
Here's how Preston describes the project:
This was a very aggressive undertaking for just one dude to be honest.  But I did it, and I have no regrets. As Biff Tannen says, the salmon and Neapolitan had to make like a tree and get out of here. Because our brick was so old and not flat at all (it was very rough and bumpy) it had a lot of dirt on it. I spent a whole day, 7 hours or so, pressure washing the entire thing. Every brick surface in the front and back and all the grout lines got sparkly clean. The most underestimated part of the job was taping and masking. I had a friend help and it still took the two of us 8 hours to mask everything off. We have 15 or 16 doors and windows and hundreds of feet of soffit and facia that needed masking before i could start spraying. The amount of tape and red rosin paper was mind-blowing, but necessary to get the job done correctly.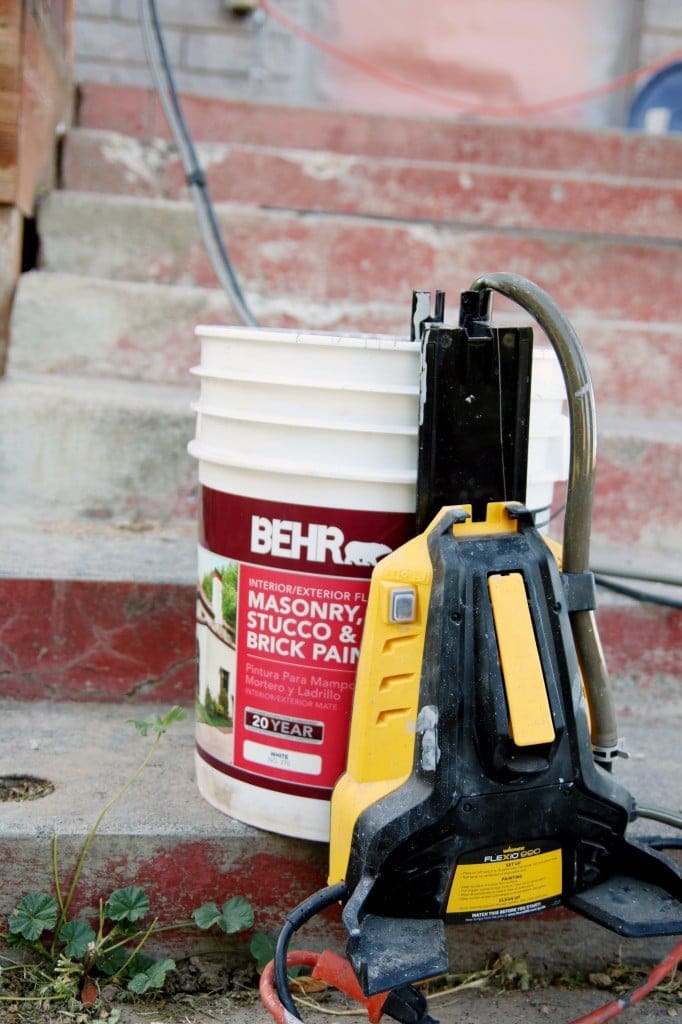 We chose BEHR's Premium Exterior Multi-Surface Primer & Sealer to prime with and had it tinted dark gray to give us a head start on the final color. To apply both the paint and primer, we used the Wagner Flexio 990. It made the task possible, really. I had a lot of square feet to cover and a lot of climbing up and down a ladder. The gun has a jetpack looking thing that attaches to the 5 gallon bucket and pumps everything through a long hose with no interruption to your gun. Whenever I pulled the trigger, it was ready to go.
Here's a short video, I captured of Preston explaining the settings he used:
The primer took me one whole day, and the next day I did two coats of the actual color using Behr's Masonry Stucco and Brick paint in Behr's Creek Bend–a warm, dark gray. The coverage was amazing and I probably didn't need two coats, but we had the paint on hand. In fact, we only used about 6 gallons of paint total–excellent coverage and the paint sprayer did not suck up a lot of paint like some tend to do.  The paint sprayer has two parts you can connect to the nozzle: one that goes into a 5 gallon bucket and one that you hook up a small one quart reservoir bottle to. I used the smaller of the two to put black paint in and spray the shutters I built and our front door. The cleanup was a cinch–just take the nozzle apart and clean each little piece in a sink and stick the jetpack in a bucket of hot soapy water and turn it on to flush the tube. 
Boom, new house.
Pretty impressive, right? My sister recently had her house painted and said it cost her around $6k, so if you have the DIY spirit like the Pugmires do, you can save a big chunk of change doing it yourself.
Next year, they have landscaping and a deck on the agenda so I'll be sure to share another update when that happens. One more before and after:
Who's ready for a giveaway?!
Wagner wants to give a paint sprayer away to one of our readers! Enter to win a Wagner FLEXIO 890 (a perfect mid-sized sprayer we've used for painting our doors and cabinets) using the Rafflecopter widget below. We'll make sure it gets to you by the holidays (in case you want to wrap one up ;) and we'll announce the winner Friday!