School starts next week, and in the evenings, we're already breaking out jackets. But, just when I feel like summer is all but over, I get this image in my inbox of the Pittsburgh kitchen renovation we did with Frigidaire Professional back in June. !!! Recently, photographer, Adam Milliron went over with stylist Quelcy Kogel and captured the kitchen for every season since we won't be able to pop in anytime we want from across the country. They did an incredible job and I can't wait to share more photos on Instagram as the year progresses. But for now I'm changing my mind–summer is in full swing–pass the watermelon!
Other fun things this week!
Speaking of back to school, these college freshmen went all out on their dorm. It's gorgeous and cozy and why not?! I remember getting some new bedding, but this is next level. You go girls! 
The prettiest fall nail polish colors! (Just ordered Liv in the Gray and Front Runner looks awfully close to our reading room walls.)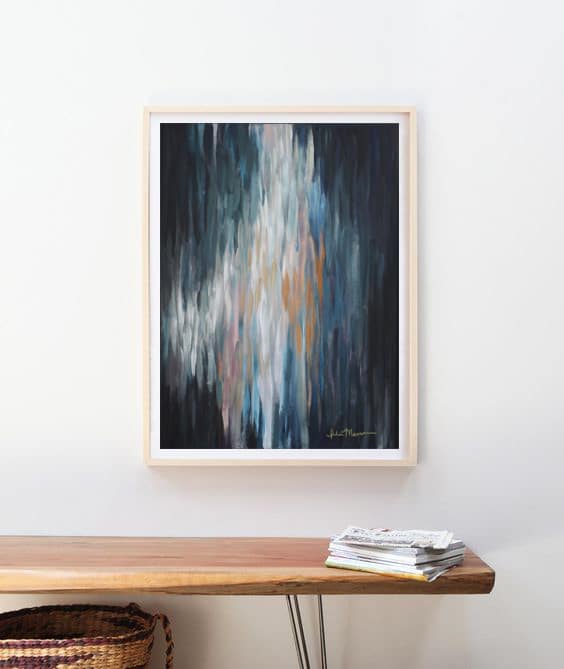 After several requests, I reopened my Etsy shop temporarily, until Labor day. I hope to start painting again soon (after our home office/studio is complete), but for now, feel free to snag a print of one of the eight paintings listed (the one pictured is called "Into the Lake").
The Oregon Trail card game is now out, exclusively at Target (but you can buy it on Amazon for triple the price), and my nostalgia can't resist.
While Chris usually scoffs every other minute during The Bachelor/ette, he has totally gotten into Bachelor in Paradise. He thinks it is hilarious and often agrees with Nick's matter-of-fact comments "you are never going to be with him." We try to keep our computers closed while watching a show together, it just feels more like we're actually doing something together even if that thing is watching a screen. But he opened up his computer during Tuesday's episode. After a couple minutes, I leaned over to see he was researching the cool hotel they were staying at! After I was done cracking up, I noticed it's actually pretty reasonable!
West Elm's Sofa sale is coming to a close; the super cool Billie Sofa and Eddy sofa are in the $600 range and if you've been eyeing our Lounge Sofa (shown above in the velvety fabric; color is Grey), Crate and Barrel is running their annual upholstery sale! This is the best time to buy furniture from them, especially when you check eBay for a coupon! You can stack coupons as long as it says "furniture included" and "no restrictions." Update! It seems hard to find one that is applicable to sale items. The coupon can't be stacked if it says it is  for full-priced items. 
Lastly, I have to say, I had high hopes for the A Night In series, but the bloggers involved and all of you readers blew those expectations out of the water. Thank you for being into it. We're already planning and excited for next season's. Tag your photos on instagram with #anightin and tag @chrislovesjulia and @yellowbrickhome for a chance to be one of the guest bloggers in our fall edition!
Hope you all have the best weekend. Painted office reveal on Monday!