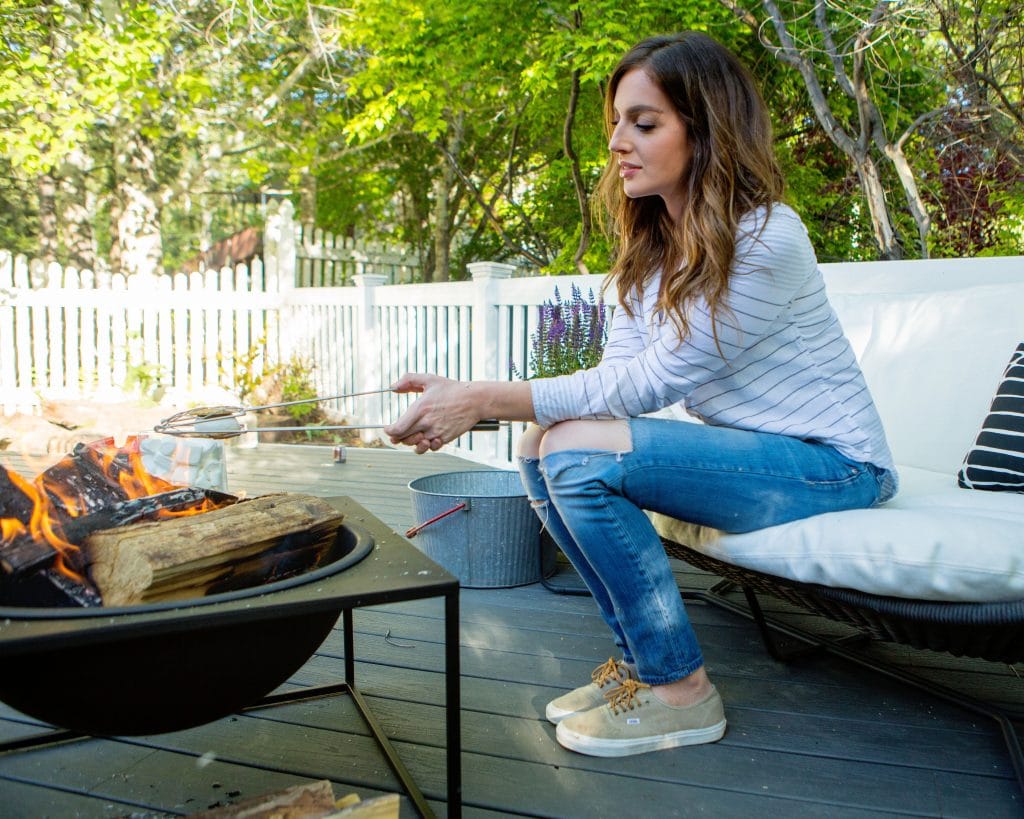 S'mores basket | Small Firepit | Loveseat | Weber grill | Grill-top Pizza Oven
A few weeks ago, like the day after the deck was done, we had grilled pizza and s'mores with some friends out back and it was a dream. Chris made the best pizza dough ever–with a good chewy bite to it–and we made it in our new grill-top pizza oven. That thing is incredible! All of our s'mores were made with Reese's and I'm still dreaming about them. The full story (and recipe for that dough!) is over on Crate & Barrel's blog. You can check it out here.
Other fun things this week!
-We've decided to turn the 5th bedroom downstairs, that is currently a trampoline room (feel free to roll your eyes with me) into a dedicated office. I still love working at my little desk in the reading room so much, and I'm sure I still will casually throughout the day. However, we're rolling out something big in the next month that may require me having more room than a 20″ desk. Also, it would be nice for me to be able to go somewhere and shut the door to take a call or work when the girls are with their nanny for two hours a day (nanny? she's my niece). Obviously this deserves it's own post, and that's coming. But man, I can't wait to start putting ideas together. A lot of function has to go in there. We're thinking a standing desk and maybe wallpaper, too. ;)
-Besides home offices, exterior living spaces have my attention these days. My favorite blogger backyards? Sarah's little patio and deck prove you don't need anything large to be big on style. Brittany finally revealed her finished backyard and it's bonkers. And a yard I'm watching transform? Molly's. (she has the prettiest instagram feed!)
-We're planning on making next week kitchen week where we can finally share all the before and afters of the Pittsburgh kitchen we just wrapped up, the cost breakdown, the renovation reality of it all, and the reveal to the family. But until then, take the above as the tiniest sneak peek I took with my phone. The portrait painting we hung in the Pittsburgh kitchen is now available in 3 print sizes right here!
–Can you tell the difference between m&m's and skittles (I thought I could.)
–Rugs are up to 50% off at West Elm this weekend! This Geo Jute Rug is such a fresh take on the natural fibered rug at an unbeatable price. It's in my shopping cart! And this one would be so dreamy in a bedroom
-I caught up on The Bachelorette this week and when Chad bit into that sweet potato?! Haha! Did you hear he bought the domain names of other contestants and had them re-direct to his? He is winning all the awards for best villain of all time. 19 hilarious tweets about him worth reading if you're into that. Tell me you're into that! #milkisdelicious
-One of our amazing readers emailed me a coloring page of our kitchen that she made for our girls and it made me smile so big! How cool is this?! Thank you, Sarah! (And ps. I'm gonna color the cabinets green just for fun.)
-Lastly, the host of our podcast, Preston Pugmire and his cutest wife and my best friend, Corine, welcomed their baby girl this week. She is the tiniest bundle of sweetness I've ever seen–just over 5 lbs–and I am officially baby hungry. All of our love and congratulations to them.