A few weeks ago, our DIYed wainscoting (or paneling–whichever!) was featured on Apartment Therapy and one of the commenters mentioned that maybe the grid of pictures competes with the wainscoting wall too much and that it might just be too much geometry.
Of course we don't read every suggestion and change our house accordingly.  That would be insane, and ultimately we live here and we make design choices that suits our family and makes us happy.  But that one stuck with me because, maybe it was just a little grid happy in the living room? I sat with it for awhile. And then over the weekend, I switched things up and added two large photographs instead.
My sister took these photos of Rexburg, Idaho (where Chris grew up) and Pittsburgh (where I grew up) respectively and seeing them next to each other–a juxtaposition of our rural and city worlds coming together is as cool as it is symbolic.
Update–Here are the actual photos: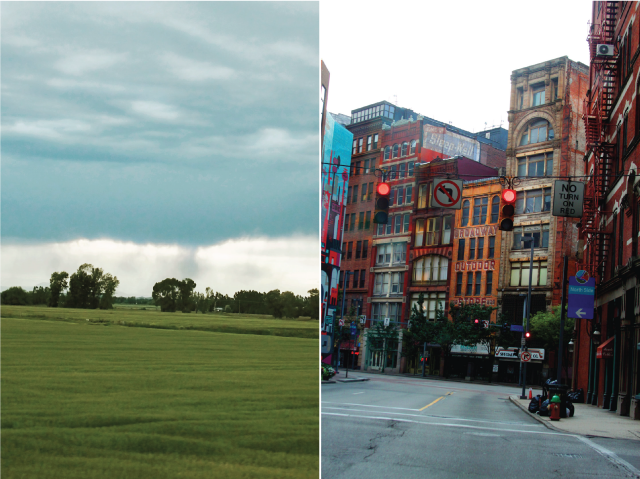 I am glad I had them printed in color.  I was teetering. Black and white is so classic and kind of goes with everything, but the colors in these photographs were too good to desaturate out. Not to mention, the room could use some color.
As far as hanging, we used two of the largest Ribba frames Ikea sells (in dark brown)–which are great because they are huge and still mega cheap ($24 a pop), but I sorta hate trying to level out two of these frames with the wire hanging mechanism on the back.  But as you now know–cotton ball to the rescue!
Next time, I'll totally pull a Dana and jump in the picture because the new presence of these photos aren't being relayed–not even a fraction–in these pictures.  They feel grand towering over my 6′ self and colorful and personal.  Pretty much everything we hoped this art would be. Any home-proud art in your home?
(Yinzers represent!)